Customers visiting by train or bus
1.Kamakura Station
 ・ Kamakura Station East Exit of JR Yokosuka Line

2.Zushi Station
 ・ JR Yokosuka Line Zushi Station East Exit
 ・ Keihin Electric Express Zushi ・ Hayama Station North Exit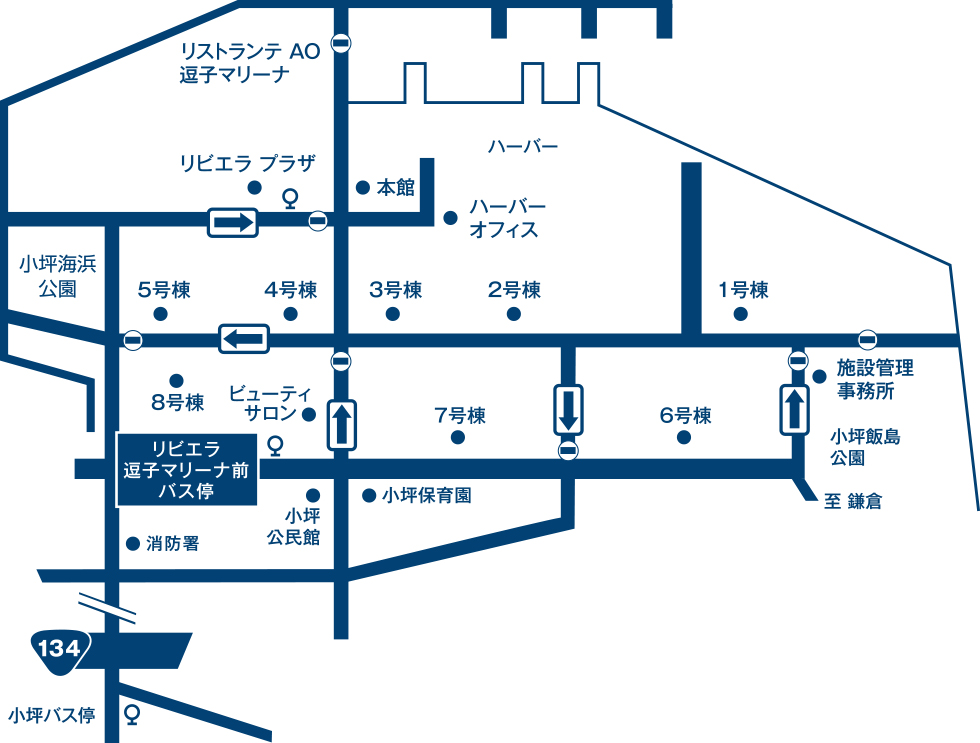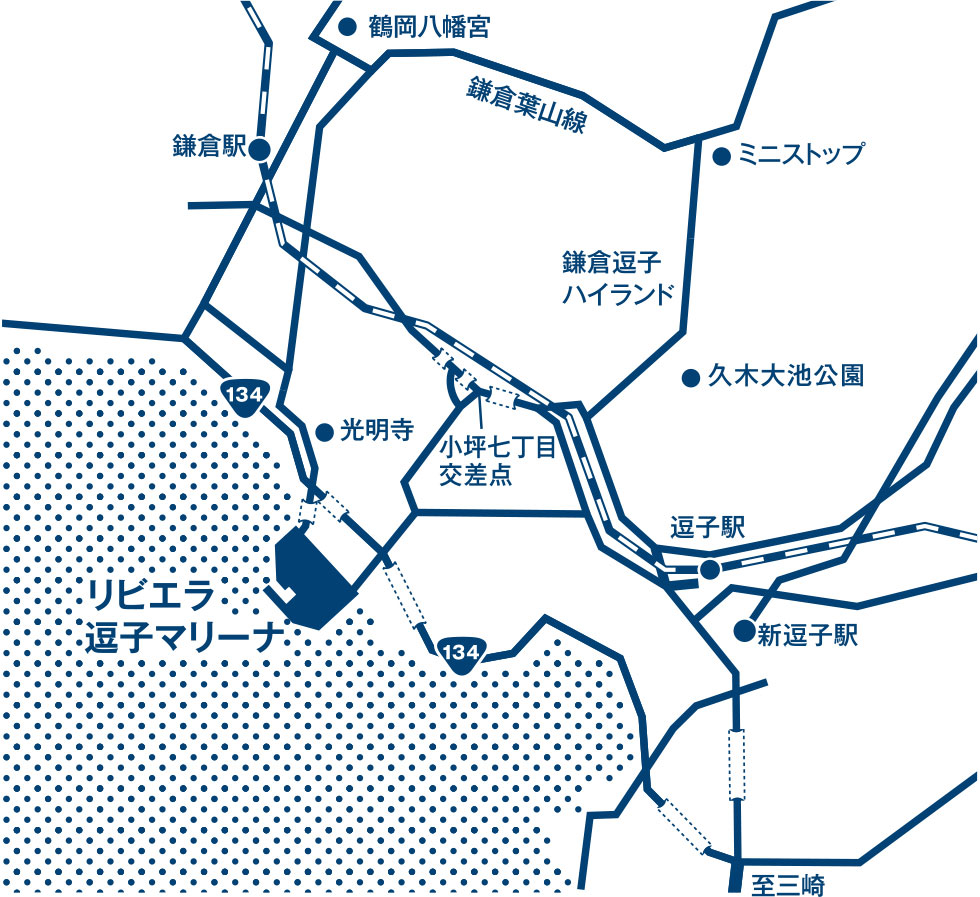 By bus from the nearest station (Keihin Kyuko Bus)
JR Yokosuka Line Kamakura Station East Exit ⇒ Keihin Electric Express Bus "7" stop bound for "Kotsubo via Zushi Station" (about 12 minutes)
⇒ Get off at "Kotsubo" stop ⇒ Go to the left and cross the road to the shopping street (7 minutes on foot)

JR Yokosuka Line Zushi Station East Exit ⇒ Keihin Electric Express Bus No. 7 bound for Kamakura Station via Kotsubo (about 12 minutes)
⇒ Get off at "Riviera Zushi Marina Mae" immediately (1 minute walk)

Keihin Electric Express Zushi / Hayama Station North Exit ⇒ Keihin Electric Express Bus "No. 4" stop bound for "Kotsubashi / Kamakura Station" (about 12 minutes)
⇒ Get off at "Riviera Zushi Marina Mae" immediately (1 minute walk)
Keihin Electric Express bus timetable
For people coming by bus (print map)
When using a car (taxi, etc.) from the nearest station
 If you use a car (taxi, etc.) from the station, it is about a 7-minute drive from JR Kamakura Station / Zushi Station.
 * Please note that parking is limited.
Customers visiting by car
The nearest IC is "Asahina IC".
For information from Asahina IC and a detailed map, please see "Detailed Map for Cars" (for printing).
Daiichi Keihin or Metropolitan Expressway Yokohane Line ⇒ Yokohama New Road ⇒ Take the Yokohama Yokosuka Road toward Yokosuka and get off at Asahina IC ⇒ Riviera Zushi Marina

Exit the Metropolitan Expressway / Yokohama IC ⇒ Take the Hodogaya Bypass toward Yokosuka and exit the Asahina IC ⇒ Riviera Zushi Marina
* Please note that parking is limited.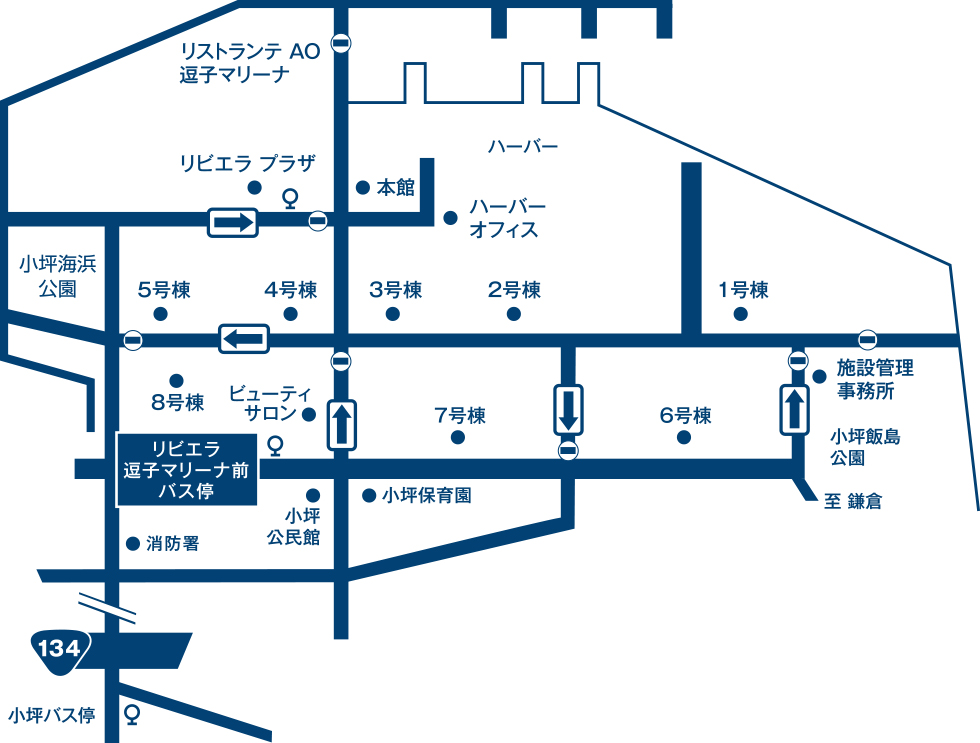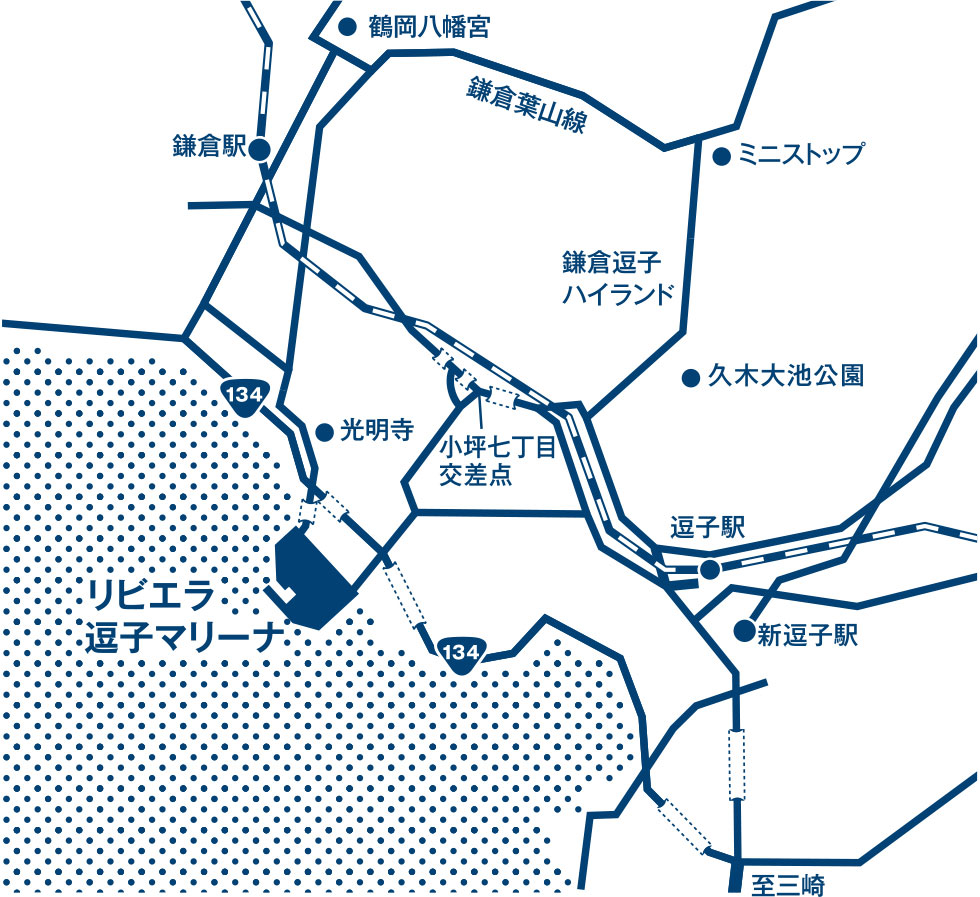 Detailed map for those coming by car (for printing)
Store name

Ristorante AO Zushi Marina
Ristorante AO Zushi Marina

Address

5-23-16 Kotsubo, Zushi, Kanagawa, 249-0008 Japan 23-16

Phone Number

Business hours

・ Lunch / 11: 30 ~ 15: 30 (14: 00L.O.)
・ Dinner / 16: 30-21: 30 (20: 00L.O.)

Regular holidays

Tuesday (Open on public holidays)

Number of seats

Inside the store: 65 seats Terrace: 30 seats (use restrictions in case of rain)

Private room

Semi-private room available (around 15 people) * Curtain partition 
* Please contact us by phone for the number of employees

reserved

Payment

Service charge: 10%
Cards: VISA, MASTER, JCB, AMEX, Diners

cancellation charge

-Ristorante AO will charge a cancellation fee as follows.
・ 3 days before (after 16:50)-XNUMX% the day before
・ On the day (regardless of contact) 100%
*If the cancellation policy is stated in the event, the cancellation policy in the event will take precedence.

Wi-Fi

Smoking allowed

Completely non-smoking (smoking space outside the store)

Children accompany

Yes Children menu available (If you have preschool children, please consult with the store in advance)

Pets allowed

Parking Lot

170 (capacity)
* According to Riviera Zushi Marina parking rules
[Regular Holiday] Tuesday (Open on public holidays)

[Regular holiday in February 2021]
1st Mon., 2nd Tue., 3rd Wed., 8th Mon., 9th Tue., 15th Mon., 16th Tue., 17th Wed., 24th Wed.
* Open on the 23rd (Tuesday / holiday).