Zushi store / Bridal club Joined new graduate in 2007
Visit the Riviera during school days. I decided to join the company after seeing the warmth and lively appearance of the staff.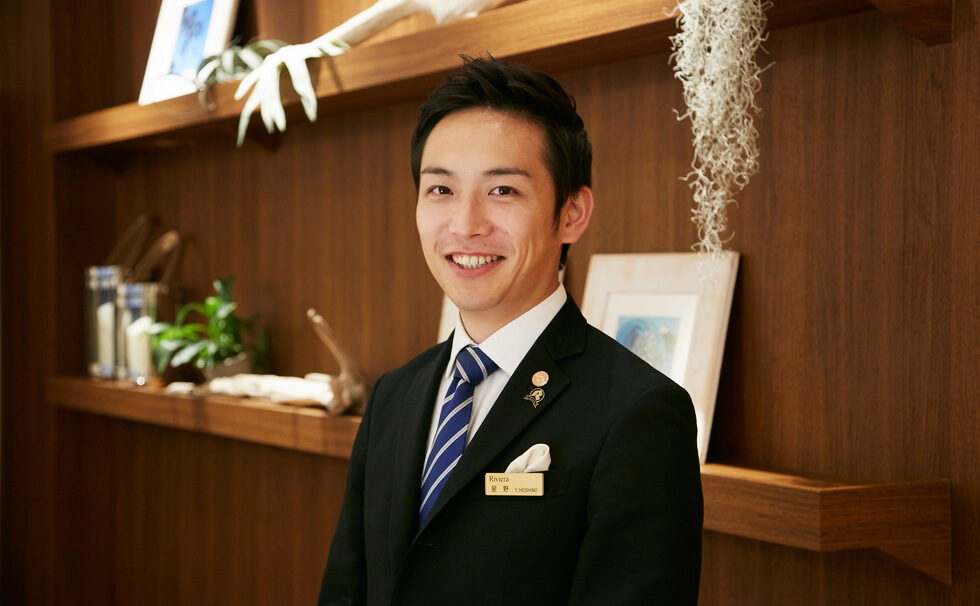 The ability to witness a Riviera encounter with a customer.
We will guide you to visit Riviera wedding plans, fair planning, and ceremony tours. The best part is that you can be the face of the company when you first meet the Riviera. In addition to the charm of the venue and cuisine, we will introduce the personality and teamwork of the staff and introduce a plan that suits them, but it is useful that we gained experience in service and restaurant work after joining the company. Every time I received a phrase such as "Hoshino's proposal was wonderful, I decided on the Riviera", I felt really rewarding.
No one is not good for this job
After being a manager, I have been involved in new employee training. What I feel again is that no one is not suitable for this job. Even passive people or people who have never served customers are OK if they want to do something for their customers. The other necessary skills are taught by us. Please experience the joy of feeling your heart and smile close at the Riviera.
Ikebukuro Store / Bridal Department Joined new graduate in 2015
I decided to create a wonderful wedding at the wedding I saw for the first time, aiming for the wedding industry.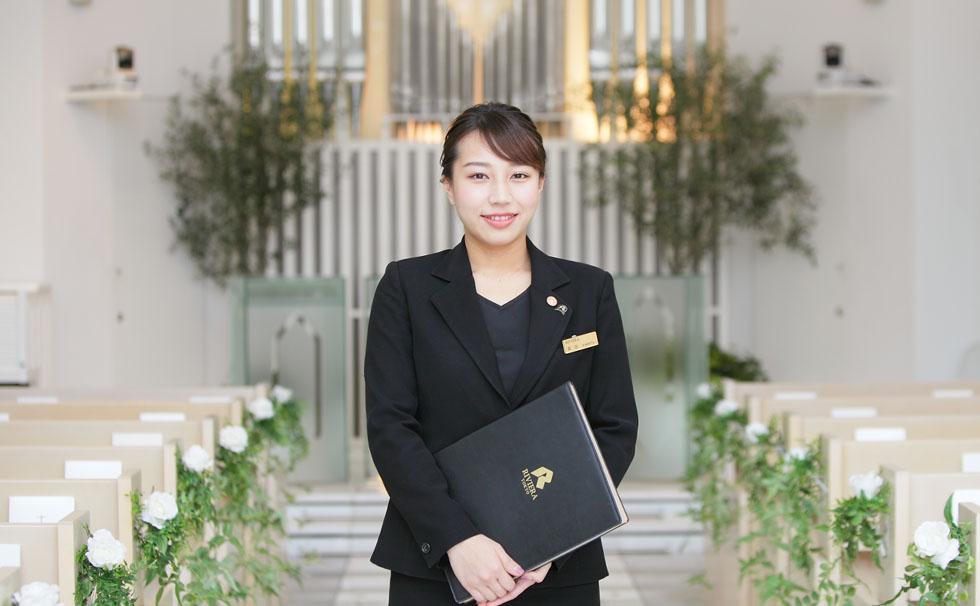 What we can tell only because we were in charge of the wedding day operation.
After joining the company, he was in charge of culinary services and acoustic lighting on the wedding day. We have seen the happiest day at the closest place to the bride and groom and guests. Utilizing the experience of creating various types of weddings that vary from customer to customer, we try to convey the "real" look and reverberation of the wedding day to the customers who visit for the first time as a wedding planner. Imagine the scene in your head while guiding them, and if you notice, you are often excited with the customer. I am very pleased to be able to choose from a number of wedding venues and I am very rewarded by this work that can be used to create a wonderful and memorable day for both of us.
Mission as a wedding planner
To fully understand "What kind of thoughts do you want to convey through a wedding?" And, together with them, look for how to convey their important thoughts to the fullest. I think this is the most important thing as a wedding planner.
Sales Department / Joined new graduate in 2008
Assigned a wedding planner after joining the company. From 2012, went to the banquet sales section.
After marriage and childbirth, she is active as a mother of two children.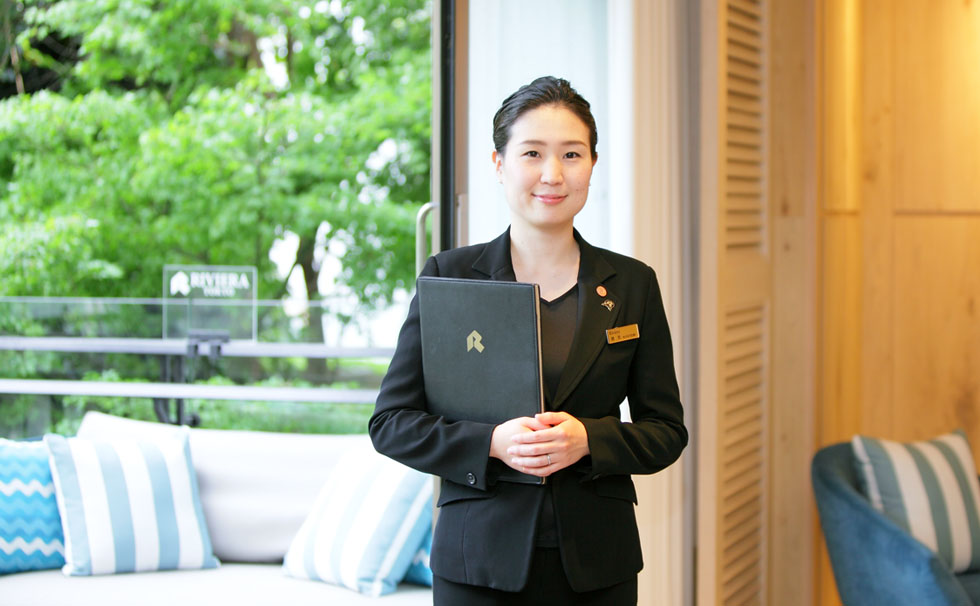 The charm of banquet sales that can last a long time
Banquet sales section where various age groups confront various customers. Customers who use the service every month and every year, and customers who have used the Riviera before I was born. Often, meetings are likely to end in small talk. We cherish such time and build trust with our customers. When I returned from childcare leave to a customer who had been in charge for the first time in a few years and said, "I'm glad you came back, Katsumi-san," I feel very happy and irreplaceable. Raising two children and working is honestly difficult, but the Riviera has the support and understanding of the staff, I can work without cramping, and I am still in charge of customers after returning. .
In addition to New Year's party and welcome and farewell party, we are in charge of commemorative parties, shareholder meetings, drama magazine shooting and event planning. The size, type of industry and age group were wide, and when I was assigned I was confused. Understanding the intent is not challenging, but the "drawing out and proposing customer needs" cultivated during the wedding planner era is now being used, making it possible to respond to a wide variety of content. The banquet sales department is a small and elite group, and each one plays a very large role, but it is a department that can challenge various things.
RIVIERA Shokakuro / Manager Joined a new graduate in 2007
After serving as a service staff, became a restaurant manager for the Zushi store. In 2012, moved to Shanghai as a launch member of "RIVIERA Shokakurou".
My experience in overseas business has deepened my career and life.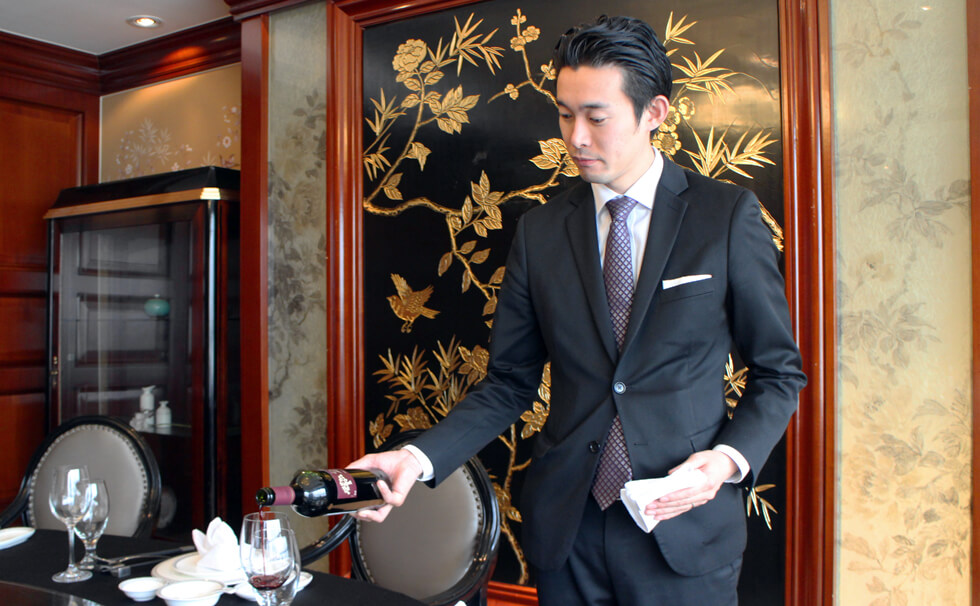 The desire to please our customers is the same in Japan and Shanghai
Mainly in charge of restaurant operation, staff education and guidance, planning of new products and new plans, and dealing with repeat customers. The hardest thing abroad was the manners and cultural differences. It doesn't work well in Japanese style, and I sometimes have trouble communicating with local staff. But the desire to please our customers is universal. We arranged customer service and food little by little and established the style of the restaurant together. Now that the relationship of trust has deepened, I look forward to the growth of the staff. The appeal of the Riviera is that you can take on various challenges, not just weddings. My overseas business experience has deepened my outlook on life.
Ron Harman café Zushi Marina Store / Manager Joined new graduate in 2009
Longing for the chapel of the Zushi store that I saw in the magazine, I went to the bridal road. After joining the company, engaged in service work.
Since 2015, he has been a founding member of Ron Harman café. Currently in charge of cafe planning and operation.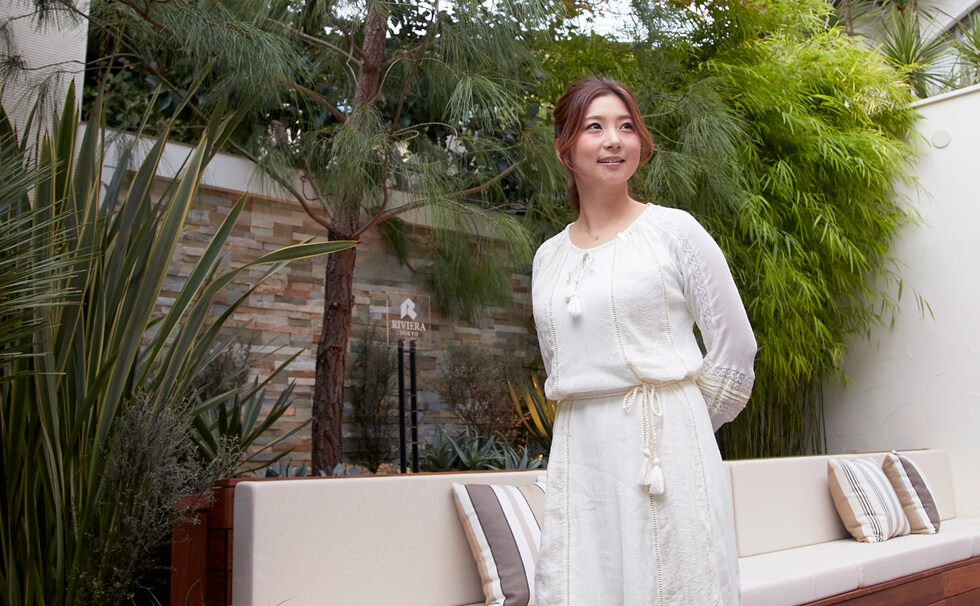 Challenge various things without fear of failure
Talking about opening a cafe was a great opportunity for me. Tie-up with an apparel brand is the company's first attempt. Thankfully, we have managed most of the operations. At first, we worked on a plan to expand awareness in the area, and we continued to challenge various things without fear of failure, such as holding a BBQ tournament on the terrace and arranging chocolate plates, and now many regulars can come. Was. My dream is that if you drink the same coffee, you want to drink it here.
Zushi store / chef Joined new graduate in 1993
Joined the restaurant, Hakuunkaku, the predecessor of the Riviera, and trained at the restaurant "NOBU Tokyo" as part of human resource development
Experienced a chef at the Embassy of Japan in Greece. Currently active as a chef.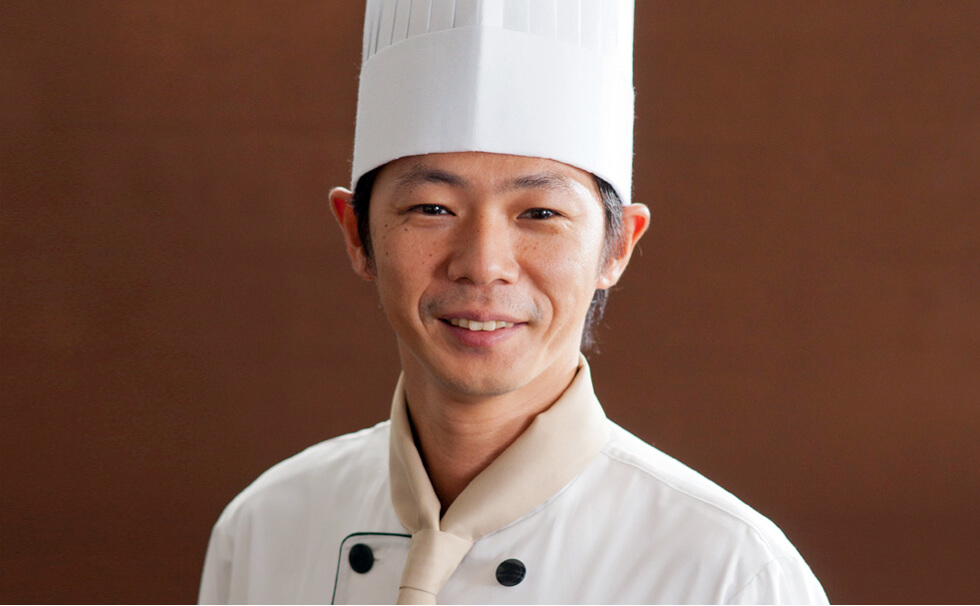 As a part of human resource development, I was appointed a chef at the Embassy of Japan in Greece for about a year and a half. On holidays, he traveled to Europe in about 1 countries based in Athens and experienced the food culture of each country. I did everything from purchasing, preparation, cooking, and washing to myself. I was struggling to find ingredients in an environment where the language was not satisfactory. Serving meals to customers on their own. I realized that thanks to everyone who cooks food, people who bring food, and everyone in Japan, they can stand in the kitchen thanks to everyone. At the center of management as a chef is a thankful fellow in Greece.
Expressing hospitality in taste
A customer who decided to have a wedding at the Riviera saying "The food is delicious!" He liked the stock soup at the wedding fair. It was a pleasure to praise the soup, which is the basic of Japanese food and the most difficult one. We would like to have original dishes, so please repeat our suggestions and tastings, and we'll be happy. The final word, "I'll do it all, I think you know everything you want." I'm happy. The hospitality dishes that are unique to the pursuit of the essence of taste rather than luxury have been completed.
Zushi store / dress salon New graduates joined in 2011
The wedding dress is a lifetime memorial. While attending from dress selection to fitting
I help you become the most wonderful yourself.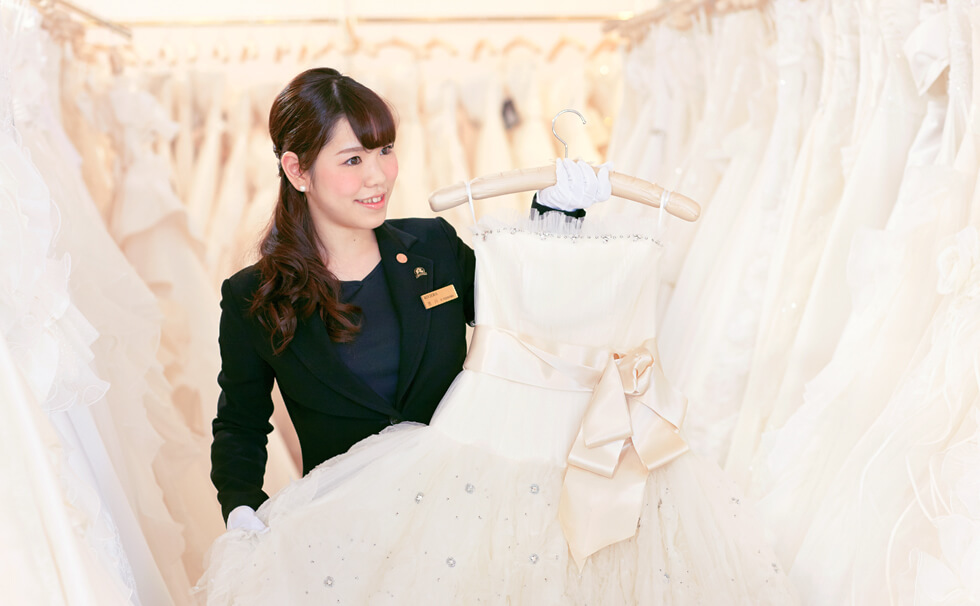 Wedding dresses are a longing for women.This is the bride!I would like you to fix the design that you think you can wear in any size.If you are a shotgun wedding, make your stomach bigger.If the only dress you like is L size, go to S size.The reason why we can respond flexibly like that is because there is a dress salon on the Riviera.Hair and makeup artists and producers are also in the same company, so it is possible to fulfill the needs of our customers.
Zushi shop / Flower section 2013 New graduate joined
The moment when you see the bouquet, the moment when the bride shines your eyes is the best happiness.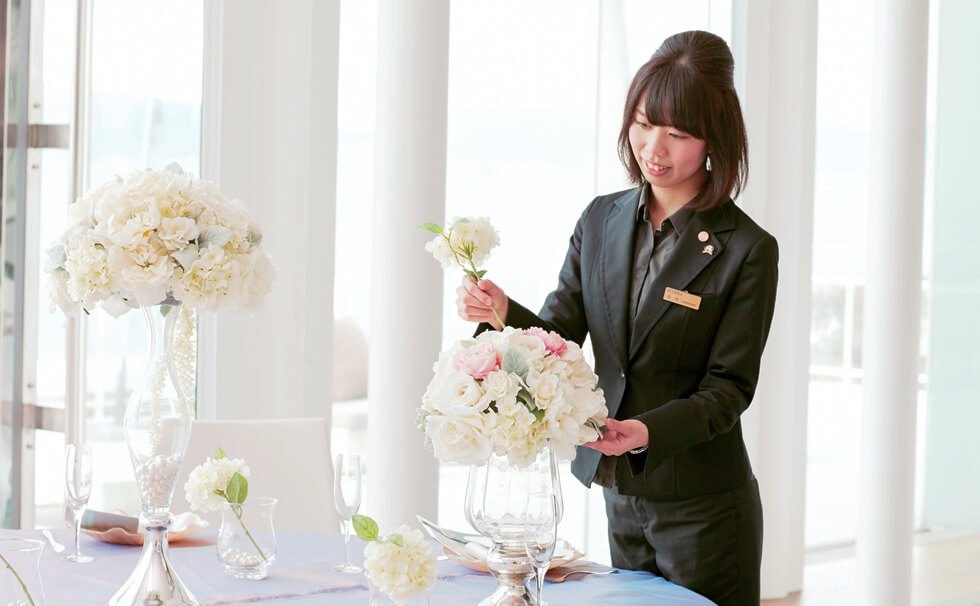 Two stories in one wheel.
I feel that the Riviera Florist is blessed. I hear that many wedding flowers are handled by a florist from a different company than the ceremony hall. Instead of just meeting them and making them according to the instructions, we can directly suggest their thoughts at the venue's flower arrangement or bouquet. The flower dies after the ceremony, but the joy of having the two stories live in one wheel at a time is a job that will remain forever.
Ikebukuro / Photo Studio Joined midway in 2008
From shooting on the day of the ceremony, snapping the reception, and creating a photo album. Vivid memories of a lifetime.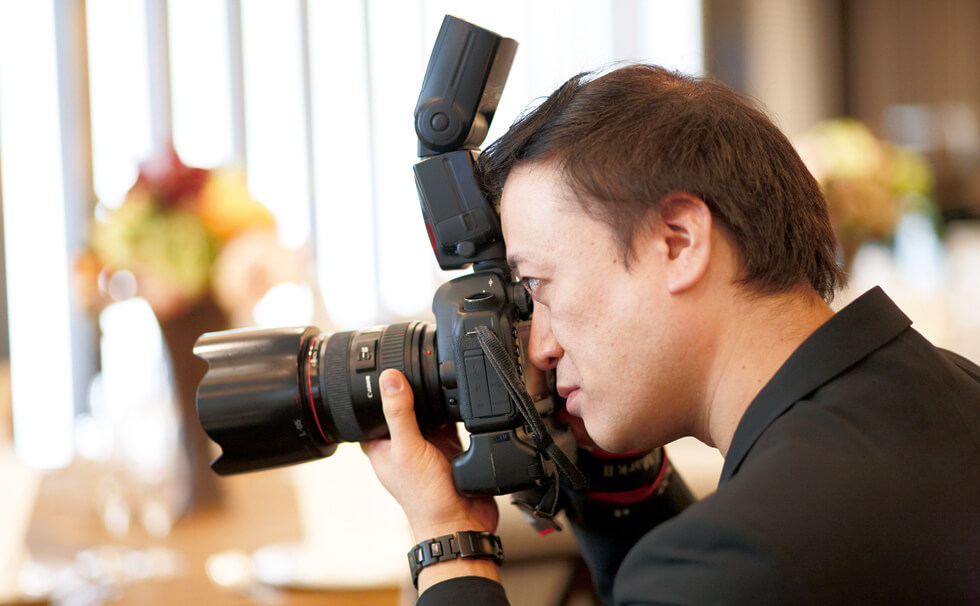 Each photo is a memorial of life. Release the shutter with all my heart.
Since a wedding is a big event in life, we want to leave the two happiest people in the best form. For that purpose, we can release the shutter more than 1 times at one reception. On the day, we will grasp the progress in advance and concentrate tremendously so as not to miss important moments such as kissing oaths and cutting cakes. People's memories fade over time. There may be fights along the long life. In such a case, if you look back at the bridal photos and get together, you'll never be so happy. Keep chasing the best moments unique to professionals.
A response that only bridal photographers can taste.
The Riviera photographers have a lot of personality, but they share the same passion of "let's take photos that people want to show!" We aim to make photos that will be enjoyed not only by the bride and groom, but also by their families and friends. A way of working that emphasizes customer's feelings and quality, not work efficiency. Probably because it is a photo studio operated by our company. That's a happy thing for photographers too.