Phone 0467-23-2211
Reception hours (closed on Tuesdays)
[Weekdays] 11: 00-18: 00 [Saturday, Sunday and public holidays] 9: 00-19: 00
›Seaside wedding with tears and laughter presented by two sportsmen
The story of a senior couple
Seaside wedding with tears and laughter given by two sportsmen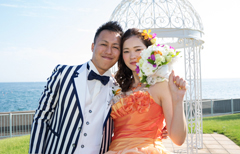 Yuta Kashiwara, Azusa Foot
Ceremony / June 2016th, 18
Venue / Ocean Suite
Yuta and Azusa, who have been dedicated to "softball" since they were young, are hardcore athlete couples who met at a college softball tournament. We want to entertain the guests who have taken care of us, so we have prepared a perfect setting for an ocean view banquet with the theme of "laughing". We will introduce two parties that are full of hearts with laughter.
Venue used
---
Oath ceremony held at the sea

Marine is the theme of table coordination. Sunflowers get a lot of looks.

The venue is even more exciting with the entertainment of the Banzai Alliance, a specialty of Waseda University.

A lot of pretty mini bouquets are a surprise gift for both children.

A three-member sister Nakazaka.
The party begins with an appetizer buffet hospitality
Before the start of the party, guests will be served with appetizer dishes lined by the pool. The Zushi Marina is located in Sagami Bay, where you can enjoy a relaxing time in front of the pool overlooking the sea before welcoming the groom and bride. The guest said "nice"!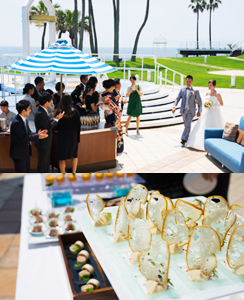 Direction is perfect, too! Re-entry from the sun-lit terrace
During Nakaza, they re-entered when the venue was wrapped in tears in the profile screening. When the curtain rises, it appears on the poolside where the reflection of the sea sparkles! Bride and groom re-colored in striped tuxedo and bright orange dress. The attention of the guests gathered at a stretch, and the healthy appearance that suits the sea glowed even more.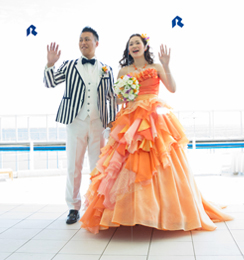 As expected! Cheering squad to give ale to two people
A groom graduated from Waseda University. Amusement will give Yale from the supporters of Waseda University OB. The venue also springs to support you, and your friends applaud! Many smiles spill.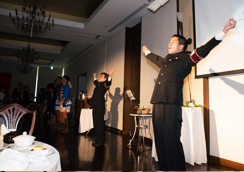 Enjoy the ocean view right before your eyes.
The second half of the party has a dessert buffet again by the pool. Relaxing on the sofa, watching the sea with a glass, and taking a commemorative photo, a wonderful time full of resort feeling. They spent a lot of time with their guests.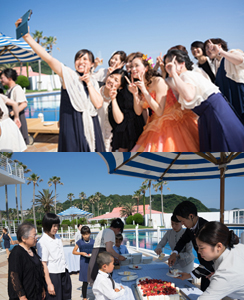 Related information