Phone 0467-23-2211
Reception hours (closed on Tuesdays)
[Weekdays] 11: 00-18: 00 [Saturday, Sunday and public holidays] 9: 00-19: 00
›Ceremony like an overseas resort in Japan!Kamakura TRIP wedding with guests ☆
The story of a senior couple
A wedding like an overseas resort in Japan!
Guests together with Kamakura TRIP Wedding ☆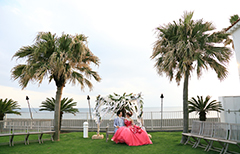 Kohei & Misaki
Ceremony / March 2016th, 12
Venue / Aqua Garden
Two people who wanted a wedding full of openness like an overseas resort in Japan. With the best location on the seaside and the stylish coordination of the bride, a truly overseas resort wedding is realized! In addition, handmade sightseeing MAPs around Kamakura were handed out and distributed, and the guests enjoyed a wonderful wedding experience.
Venue used
---
At the entrance are two memories

Lovely paper items add to the party

A great excitement with "model byte" by parents

Please give escort to someone who loves escort with a surprise ♡

Handmade photo props that leave fun memories in photos

Commemorative photo with the two very good friends
Sea x palm x green directing overseas wedding
A wedding venue set in a green garden. Proceed down the Virgin Road on the blue lawn and take an oath at an altar just outside the sea. The wedding ceremony was held peacefully among the relatives and many friends in the garden where the sea breeze passed through refreshingly.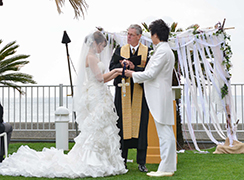 Wedding cake with a stylish atmosphere overseas
Country-style cakes with cute natural and casual clothes are perfect for open parties. After the party was excited with the first byte from the bride to the groom with a huge scoop, a message from the guest was commemorated.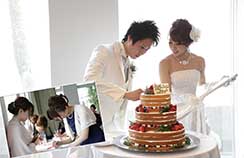 Improve the feeling of resort with outstanding coordination!
The party venue is coordinated with table decorations that have a beach resort atmosphere where natural and marine using sand and shells are wonderful. The seats of the guests, handmade by the bride, match the sea overlooking the window, creating a refreshing atmosphere inside the venue.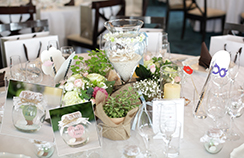 Group photo is also a resort taste
Group photo with guests in the garden against the sea. The two have started counting down a year ago and have been preparing for their wedding. The countdown board will also be on the day and will be "Just Married".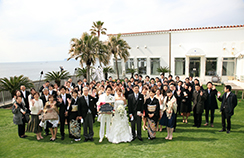 Related information