Phone 0467-23-2211
Reception hours (closed on Tuesdays)
[Weekdays] 11: 00-18: 00 [Saturday, Sunday and public holidays] 9: 00-19: 00
›All guests are photographers! ??
The story of a senior couple
All guests are photographers! ?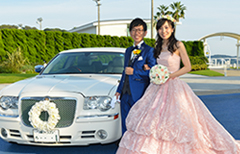 Takuto Urasato, Maiko Kanazawa
Ceremony / September 2015nd, 22
Venue / Ocean Suite
I want guests to take lots of photos anyway! ! Therefore, we prepared an instant camera for all guests at the reception. Weddings created with a special focus on the subject and the decoration. Please enjoy the unique worldview of two people working in cameras.
Venue used
---
Please enjoy the two photos to the venue

Get along with your brother

Going to the color change while playing futsal with a friend

Congratulations DVDs & presents from everyone at work

The entertainment of dance and songwriting songs from family
Shutter sound resounding like applause
When the door of the chapel opens, the camera lenses gather at the same time, and the sounds of "Pasha" and "Jiji" resound inside the chapel like applause. A photo taken by the guest at the reception desk will be posted on the marriage certificate, and the two witnesses will be photographed with the camera toward the representative witness ♪ If you paste it mainly, the original marriage certificate is completed! !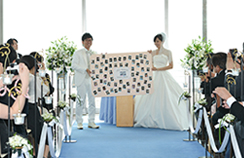 Blessed by the blue sky
Ocean suites with a view of the sea in front of them have a pool, so directing outside is also different! Toasting ♪ Of course, while enjoying the resort feeling with a glass at the poolside with the guests, guests have a camera in one hand.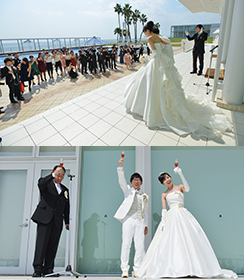 Blessings
First of all, a wedding cake with a camera motif, two cake bytes! After that, there was a surprise birthday byte from the bride to the guest who had their birthday on the day.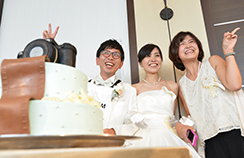 Where are they from?
Now, it is admission for two people to recolor. Guests pay attention to the door of the venue. that? that? Anyway, the curtain on the window rises, and there is a huge balloon there! Two people appeared in the pose of [high, cheese] from the balloon to the music! The venue was exciting with unexpected appearances.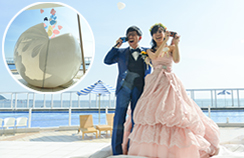 Don't miss a photo opportunity!
In a table round, two people pour water into a glass bowl in the center of the table to complete the aquarium. A fun production that includes blue marbles, fishing lures, and two trademark films. A great photo opportunity for guests!
Related information