Phone 0467-23-2211
Reception hours (closed on Tuesdays)
[Weekdays] 11: 00-18: 00 [Saturday, Sunday and public holidays] 9: 00-19: 00
›Hydrangea blooming" Tsurugaoka Hachimangu "ceremony & gastronomic party to deepen the" bond "between the attendees
The story of a senior couple
A hydrangea blooming "Tsuruoka Hachiman Shrine" wedding & gastronomy party to deepen the "bond" between attendees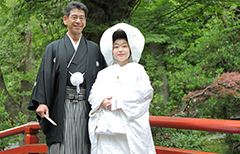 Masahiro Katsumata and Megumi Okada
Wedding Date / June 2014nd 22
Venue / Bayshore
The ceremony was performed by Tsurumaoka Hachimangu Shrine, a popular hydrangea famous place. The theme of the party is "to deepen the bond between the attendees." We will report on the party's design, with the most irreplaceable time, with important guests, while enjoying delicious dishes slowly and firmly.
Venue used
---
Shinzen ceremony at Tsuruoka Hachimangu, a popular hydrangea spot

After greeting each other's relatives and taking care of them, toast in the original box!

Both the mothers of both families are redecorating. Surprise event secret to mother

Wedding cake with "lace" that fell in love at first sight at the bridal fair

Dessert time on the terrace is a commemorative photo time with the sea in the background
Shinzen ceremony at Tsuruoka Hachimangu Shrine where you can feel the season
Shinzen ceremony at the historic Tsuruoka Hachimangu Shrine. It was unfortunately the sky pattern, but there was a taste, and the ceremony was even more tastier. At the conclusion of the ceremony, it was raining completely. Like the slide show at the top, I was able to shoot in the background of "hydrangea" unique to June.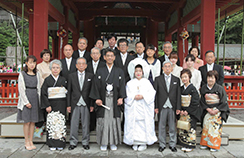 Highest cuisine that conveys thanks
The food they chose was the "Nahorahi" course, where food, drinks, flowers and gifts collaborated. The key point is Kamakura Chopping chopsticks, which you can take home as a torsion flower or a gift for each guest so that you can feel the warmth of the two. We boldly arranged the wedding style of Japanese cuisine inherited from ancient times in Japan, and enjoyed not only local production for local consumption, but also a new style of Japanese cuisine using selected ingredients.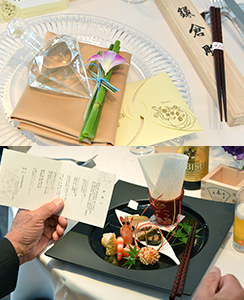 The bride's wishes come true!
I want to walk Virgin Road with my father! The bride who had such a "wish". At the time of re-entry, I was able to bite step by step with my father. After the father touched the groom with the baton, a ring exchange ceremony was also held.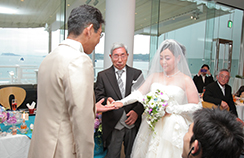 Memories photos
"One frame" during the party. Relatives watching the bride's childhood album. The album goes around each table, and it looks like flowers are blooming without memories. It was a smiling scene that symbolized the two parties.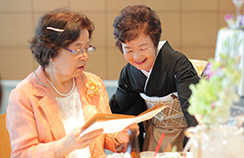 Message from the staff in charge
Congratulations on this time.
I was also looking forward to having a good meeting with the two of them, who are making steady preparations to realize their commitment to the reception.
On the day, whether the hospitality of the two was transmitted,
I was happy that the guests smiled.
Please come and visit Riviera in the future.

Wedding producer Chihiro Moroboshi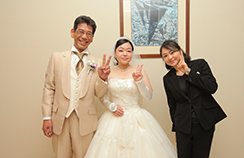 Related information