Phone 0467-23-2211
Reception hours (closed on Tuesdays)
[Weekdays] 11: 00-18: 00 [Saturday, Sunday and public holidays] 9: 00-19: 00
›Smile wedding with a smile
The story of a senior couple
Smile wedding full of smiles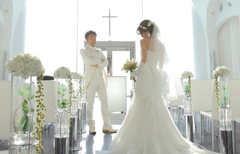 Yusuke Kawahara, Kaoru Oikawa
Ceremony / 2014 May 10th
Venue / Blue Vista
The two reggae that I love met. Venue coordination reminiscent of resort weddings in Hawaii and gorgeous yellow costumes in theme colors. Also pay attention to the magnificent location integrated with the venue! Their theme is "Smile". We will introduce a party with a smile from beginning to end.
Venue used
---
Two ring pillows

Two people swearing marriage while being watched by guests

Take a commemorative photo with the sea of ​​Shonan in the background

Bouquets on an open terrace

Discerning paper item
Table coordinates reminiscent of the sea
In the table coordination of the two, shells, sand, and coral spread on the table on a blue cloth in the image of the favorite sea.In addition, the flowers using the theme color yellow are exceptionally gorgeous, creating a very cool and bright atmosphere.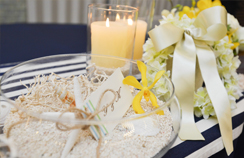 First byte
At the first bite, the guests were surprised at the size of the cake on the spoon that could not be eaten.This original wedding cake had the words "JUST MARRIED" drawn on a refreshing green ribbon.Both of you have a big smile!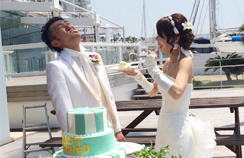 Message from the two
The two people re-entering the room received flowers from the guests at each table and made a lei. The feeling of blessing put in each wheel became one, and it was given by a friend who is also a cupid. It was an event that seemed to remind us of Hawaii.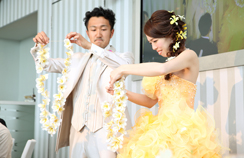 Dessert buffet on the terrace
A great location overlooking the Shonan sea and Mt. Fuji in front of "Blue Vista Riviera". The day was blessed with good weather, and a dessert buffet was held on the terrace. Everyone has a pleasant sea breeze, a dessert and a chat. And I was enjoying the commemorative photo.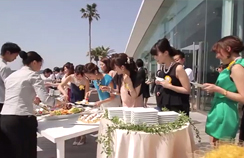 Message from the two
Message from the two

I thought everything was a wedding, including preparations. Once again I was grateful to my parents, brothers, relatives, friends, and those who have taken care of me. I felt there was such a happy day on the day. I was really happy that I had a wedding once in my life.

Yusuke Kaoru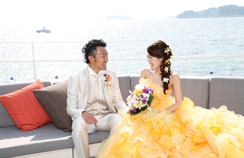 Yusuke-san Kaoru-san Congratulations on your marriage. As you said from the beginning of the meeting, "I want to have a wedding with a lot of smiles instead of tears," the two protagonists and the guests were full of happy smiles on the day of the wedding!"Ray" is a proof of approval from guests.It will be an important Takaramono.The meeting with the two, who are loved by relatives, friends and students, was a happy time for us staff to always receive power!Please come and visit us again! We are waiting for you at TEAM RIVIERA!

Wedding Producer Mariko Nakamura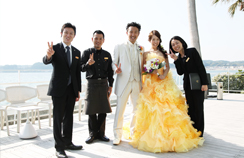 Related information