Phone 0467-23-2211
Reception hours (closed on Tuesdays)
[Weekdays] 11: 00-18: 00 [Saturday, Sunday and public holidays] 9: 00-19: 00
›The theme is camping!Style wedding full of ideas
The story of a senior couple
The theme is camping! Style wedding full of ideas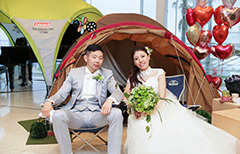 Toshimitsu Takeuchi, Kana Iwato
Ceremony / 2014 April 20th
Venue / Terrace Horizon
Camp is also a common hobby of Toshimitsu and Kana. For those who love the outdoors, they plan a wedding that is full of ideas under the theme of camping. On the day of the party, guests will have a wonderful wedding full of surprises and smiles!
Venue used
---
Original public ceremony using ray full of resort feeling

With the help of your uncle, a welcome board suitable for the theme is completed!

Nice shot with reception goods prepared by two people

To Kana who loves green & reptiles! Ring pillow and head corsage from friend

A popular shooting spot in front of the tent
Guests are also surprised! Welcomed camping set
The welcoming guests after the ceremony are ... a camp set set in a waiting space! The guests cheer and smile at the party venue. The expectation for the party that will begin now has risen a lot.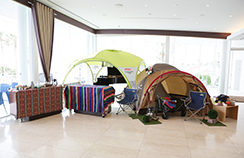 Secret camping goods for the first byte!
What Kana got as her first byte was a scoop, a must-have item in the outdoors! The expression of Toshimitsu who saw the scene was exquisite. After this, gentle Kana changed to a scoop-type spoon and safely took a first bite.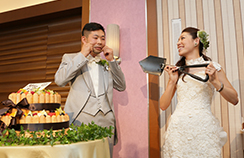 The chatting time is fun outdoors
In front of the tent, a buffet style cake is provided by the two of them. You can enjoy a conversation with two people with one hand of cake on a camping chair or a built-in sofa, or take a commemorative photo, and the chatting time will be exciting with the feeling of petit outdoors.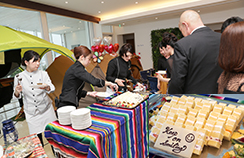 The ultimate lantern service!
Instead of the candle service for admission to the recoloring, the two introduced a "lantern service" that resembles a campsite at night.Instead of Toshimitsu wearing a black tie, the venue staff will lead the two with Toshimitsu's own camp look.Applause from the venue for that figure!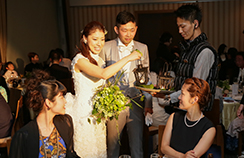 Related information