Phone 0467-23-2211
Reception hours (closed on Tuesdays)
[Weekdays] 11: 00-18: 00 [Saturday, Sunday and public holidays] 9: 00-19: 00
›Happy Wedding with a focus on flowers ☆
The story of a senior couple
Happy Wedding ☆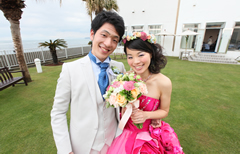 Takayuki Ishikawa, Mari Matsumoto
Ceremony / 2014 April 6th
Venue / Aqua
Two people who met at a part-time job when they were students and have nurtured love.Because the bride's job is flower arrangement, the party venue is full of wonderful flower arrangements!It was a party with plenty of flowers filled with gratitude to the guests!
Venue used
---
Virgin road of flower lei, sticking to the bride

Welcome board with gorgeous flowers

Blessing opera and handmade DVD played by friends

Blessed by the weather, a group photo in the garden!

A surprise gift from the groom
The guest table is arranged with the bride's favorite salmon pink
The party venue is a flower arrangement that uses the bride's ideas abundantly, centering on the bride's favorite salmon pink. The cute and refreshing arrangement is perfect for your image! However, only one place leaves the unfinished part ...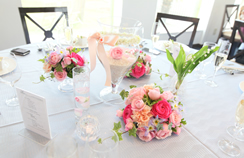 Flower service for each guest table
After recoloring, the two of them visit each guest table for greetings. There is a single pink rose in my hand ... Instead of candle service, I will arrange a guest table by performing "flower service"! The guests were welcomed with a wonderful performance.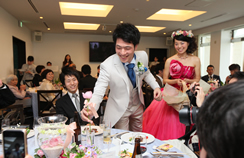 Presenting an impressive bouquet
With the feelings of the bride and groom put in a bouquet, a bouquet of thanks is presented to the parents. When I put a boutonniere gift from my bride to my father's left chest, I was impressed by the appearance of the father, who couldn't resist and spilled a lot of tears.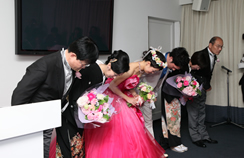 Thanks for being surrounded by friends at the second party, thank you!
The second party will turn around and invite your friends to a lively party! We thank our friend representatives for their wedding cake decorated with marzipan, which is the work of the two of them, with gratitude! It was a second party that we all enjoyed singing and dancing!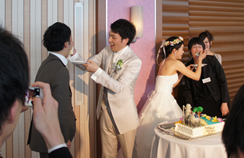 Related information