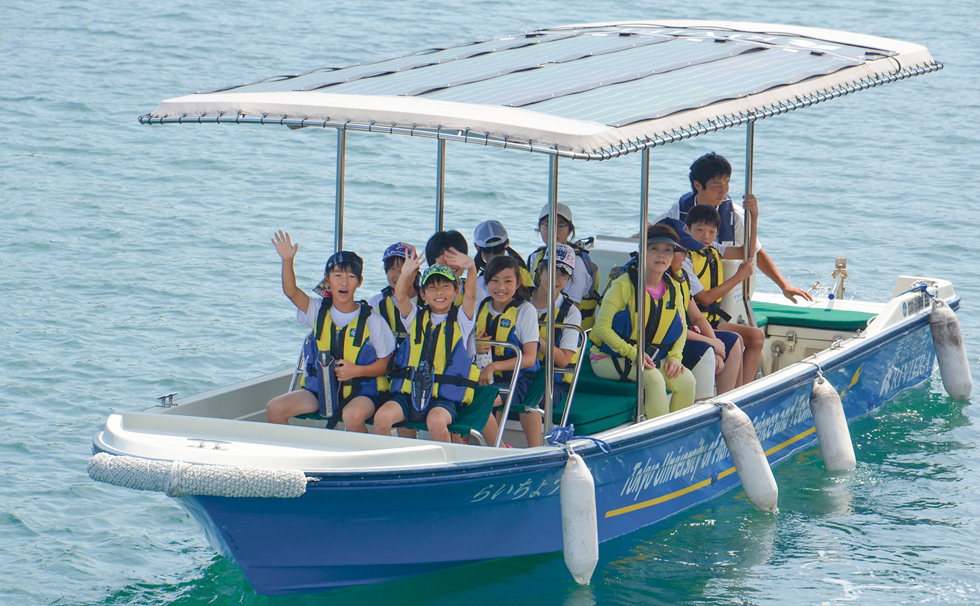 At Koajiro Bay, where the Riviera Seabornia Marina is located,
Operated the world's first fast-charging battery propulsion ship, "La Icho", as a shuttle boat.
Aiming for next-generation water transport utilizing clean energy and commercialization as a future fishing boat,
We are conducting research and research in collaboration with Tokyo University of Marine Science and Technology.
The battery propulsion ship "Laicyo" is an eco-boat equipped with thin-film solar cells.
Because it uses the same charging method as electric vehicles, it has excellent safety.
On the Riviera, we operate the Raichou as a shuttle boat that customers can board free of charge,
We are conducting various demonstration studies, such as data collection of power generation and energy consumption, and verification of usability and ride comfort.
Environmentally friendly thin-film solar cells
A thin-film solar panel recommended by Kanagawa Prefecture is mounted on the boat roof. It converts light energy into electric power to help generate electricity. Raichi, powered by batteries instead of gasoline, is attracting attention as an environmentally friendly ship because it emits no exhaust gas or CO2.
Marine life friendly water jet
The Raichi equipped with a water jet propulsion device that uses water flow has no propeller. For this reason, it is possible to operate in shallow waters and launch into roped aquaculture areas. It does not damage marine life or coral reefs, and is excellent in terms of safety and environmental protection.