Materials, texture, fragrance, taste, which are very particular
Completely original product by Riviera Patisserie
Currently, sales of sweets are suspended.
#01
RIVIERA SWEETS
-for wine-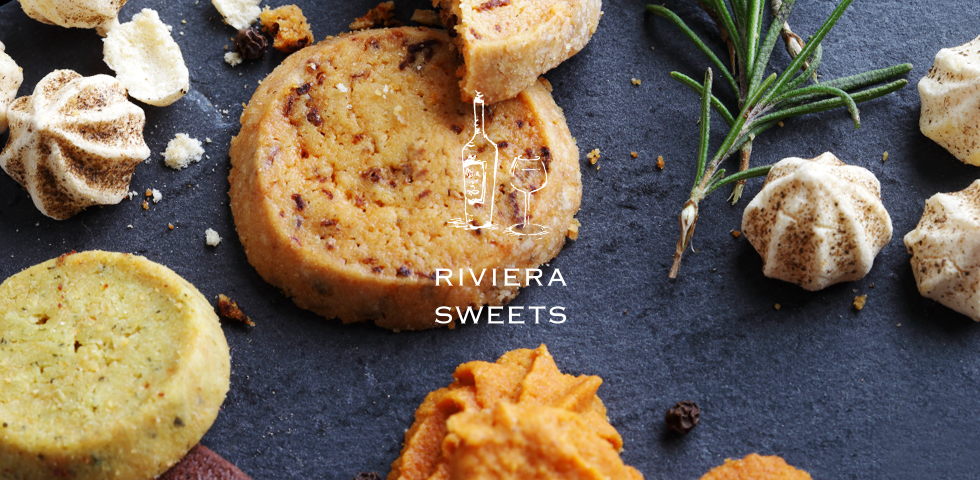 I hope there are cookies that go with wine, and six flavors that can be enjoyed as hors d'oeuvres.
A rich and rich flavor that can only be obtained here, carefully baked by the Riviera pastry chef one by one.
Knead savory onion and Edam cheese, excellent compatibility with wine
Finished with red wine glass arrow using herbs harvested in our own vegetable garden
The fragrance of parmesan cheese and basil paste with excellent compatibility is tightly condensed
Hojicha & Yuzu
Yuzu pepper and roasted tea meringue
The fragrance of roasted tea with sweet and savory yuzu pepper
Rich flavor with spices crisp based on tomato flavor
Chocolate & Pepper
Chocolate pepper
Put refreshing pink pepper on the bittersweet cookies of Haikakao
■ Ristorante AO Zushi Marina
■ THE CABIN
5-23-16 Kotsubo, Zushi, Kanagawa, 249-0008 Japan
TEL:0467-25-0480 
Click here for how to purchase