JSAF member organization Toyo Shonan
JSAF Member Organization Miura Gayosai Sailing Club
Riviera Marine Club Zushi Marina Young General Cup Executive Committee
Kanagawa / Zushi / Japan Sailing Federation
In cooperation with Unnan City Tourism Association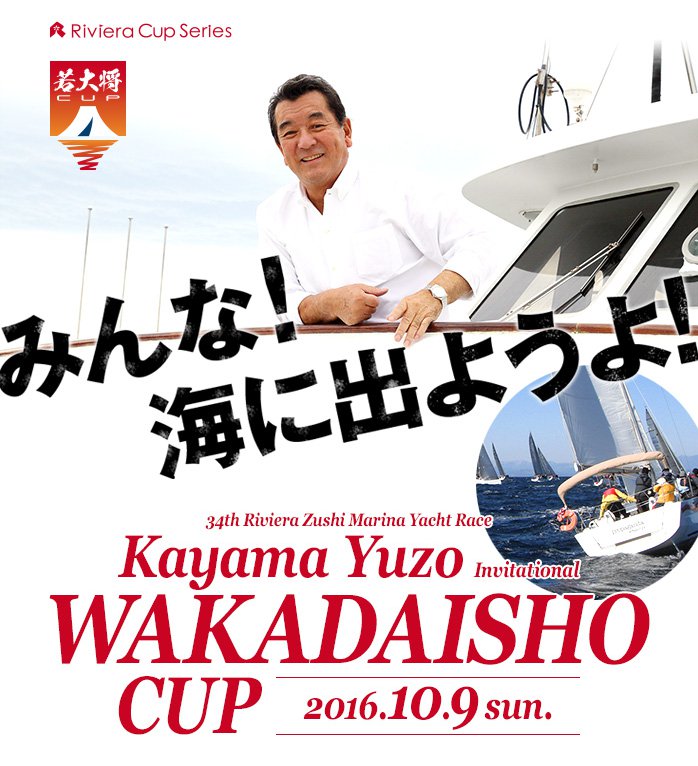 Today, October 9th cruiser yacht dinghy yacht race,
Heavy rain, lightning, strong wind, waves, flood warnings have been issued in this area,
Considering the safety of boats participating from afar,
After discussing with Yuzo Kayama, Honorary Executive Committee Chairman at the Race Committee,
Unfortunately, both races will be canceled today.
The cruiser yacht race will be held at the same time on October 10th.
Boats that cannot participate in the 10th race will be refunded the entry fee.
The party will be held today as scheduled.
Open 17:00 Start 18:00
Today's shuttle bus runs as scheduled.
Young general cup race results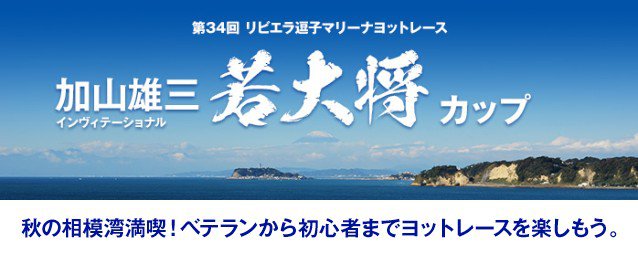 Qualification

A keelboat of 19 feet or more that does not hinder legal navigation, including crew qualification.

Have valid yacht insurance during the race, including liability, passenger disability, and search and rescue costs.

A boat approved by the Riviera Zushi Marina Young General Cup Race Committee.

An IRC class is a boat that has a valid rating certificate for the class.

A boat that has authorized the Executive Committee to use her right to portrait on photos and videos without her permission.

The maximum number of participating boats in this tournament is 150.

Classification

Divide the participating boats into the following classes. Classes may be further divided into A and B classes depending on the number of participating boats.
a) Happiness class: Boats that do not use spin.
b) Open Class: Boats without a valid IRC rating.
C) IRC class: A boat that has an IRC rating.

The conditions for the establishment of each class shall be 5 boats or more.

The overall score for all participating boats will also be calculated based on the rating of Wakadaisho Cup.

Participation application procedure

The application form is on the official website of the 34th Riviera Zushi Marina Yacht Race.
In accordance with the participation application form, apply via the Internet and submit the following required documents.
(Registration will be accepted on a first-come, first-served basis, this application will not be accepted except on the Internet)

[Application start] 2016 September 1st Thu. 9:00
[Application Deadline] 2016 September 30th Fri. 17:00
Or close as soon as 150 boats are reached.

A copy of a valid rating certificate (IRC class)

Rating report (all boats)

A copy of a valid pleasure boat insurance insurance card

Participation Fee

Award ceremony party participation fee 1 yen per person
* Yacht race participants only

After your participation has been officially recognized by the Race Committee and contacted by the Secretariat, remit via the bank to October 4th Tue.
Race entry fee and awards ceremony party entry fee will not be refunded in principle.

However, this does not apply if all events (race and awards ceremony party) are cancelled.

Transfer destination of participation fee

Mizuho Bank Zushi Branch
Ordinary account 1593246
Riviera Resort Co., Ltd.

Schedule

Sailing instructions

Fill out the sailing instructions, crew registration list, and entry form on this site up to September 23rd Fri.

Our Courses

Start off Zushi → Eboshiiwa (clockwise) → Finish off Zushi

How to calculate grades

Comprehensive results are calculated on a time-on-time basis for all boats using the organizer's own rating.

For Happiness Class and Open Class, correction results are calculated on a time-on-time basis according to the organizer's own rating.

The IRC class calculates the correction result using the time-on-time method.

賞

Overall victory-3rd place
First Home Award
Champion of each class-3rd place

There may be cases other than the above.

Departure declaration, captain's meeting, award ceremony

Submit the crew registration and departure declaration within one of the following periods to receive the handout.

[Submission address]
Riviera Zushi Marina Harbor Front
Hayama Port Management Office Front
Riviera Seabornia Marina Harborfront

[Submission period]
October 8th Sat. 10: 00-16: 00

Do not hold.
Race questions will be accepted by email or fax to October 4th Tue.
The answer to the question will be posted on the website on October 6th Thu.

Award ceremony party (planned)

Date and time: October 9th Sun.
17:30 Award ceremony party reception
18:00 Award ceremony party start
19:00 Yuzo Kayama Special Live
20:00 Closing schedule
Place: "Special venue" in the Riviera Zushi Marina Harbor Yard

Mooring places, etc.

On the day of this tournament, temporary mooring of participating boats will not be accepted at the Riviera Zushi Marina due to overlap with other events.
You can contact the nearby marina directly or, on the Riviera Seabornia Marina, a small number of boats will be accepted on a first-come, first-served basis.
Usually 1 days and 2 night can be moored at 420 yen / ft at 210 yen / ft.
Seabornia Marina Harbor Office Phone 046-882-1214

Award ceremony shuttle bus

From Enoshima, Hayama Port and Riviera Seabornia Marina, a free shuttle bus service to Riviera Zushi Marina is scheduled to operate.

Tournament Officer

Tournament president

Noboru Watanabe
(Chairman, Riviera Resort Inc.)

Tournament Vice President

Akira Hirai
(JSAF affiliate group Chairman of the Pacific Ocean Shonan)
Junichi Oyama
(JSAF member organization OSC Miura Chairman)

Special Conference Honorary President

Tournament Honorary President

Yuji Kuroiwa (Governor of Kanagawa Prefecture)
Ryuichi Hirai (Mayor of Zushi)
Hirofumi Kono (President, JSAF)

Tournament Honorary Vice President

Toshio Takahashi
(Chairman of Riviera Zushi Marina Yacht Club)
Yukitaka Hihara
(President of Hayama Yacht Club)
Tomomi Ohno
(Chair of Seabornia Yacht Club)

Executive Committee

Koji Shindori, Executive Committee Chair
(Riviera Resort Inc.)
Race Chairman Hiroshi Namikawa
(JSAF member group Taiyo Shonan)
Katsuya Hariba, Protest Chair
(JSAF member group Taiyo Shonan)
Eligibility and application procedure

A boat approved by the Riviera Zushi Marina Young General Cup Race Committee.

The number of boats participating in the race shall be up to 100 in all classes on a first-come, first-served basis.
Registration will be terminated as soon as 100 boats have been entered, even within the registration deadline.

Boats approved by the Executive Committee to use the right to portrait on photos and videos without permission.

How to apply

It is on the official homepage of the 34th Riviera Zushi Marina Yacht Race. Submit the necessary application documents on the Internet according to the participation application form.
(Registration will be accepted on a first-come, first-served basis. This application will not be accepted except on the Internet)

[Application start] 2016 September 1st Thu. 9:00 
[Application Deadline] 2016 September 30th Fri. 17:00
Or close as soon as you have 100 boats.

Race and
Party participation fee

Party participation fee 1 yen per person (at Riviera Zushi Marina)
* Yacht race participants only

Mizuho Bank Zushi Branch
Ordinary account 1593246
Riviera Resort Co., Ltd.

When applying for participation, be sure to enter the boat type, sail number, and captain's name.

After your participation has been officially recognized by the Race Committee and contacted by the Secretariat, remit via the bank to October 4th Tue.
Race entry fee and awards ceremony party entry fee will not be refunded in principle.

However, this does not apply if all events (race and awards ceremony party) are cancelled.

Race method

Divide into four groups by yardstick number and race.
(Refer to the attached figure for details of the group)

Schedule

Confirmed boating on October 9th. (Contact Hayama Port 046-875-1504)

First group start notice time 1:10
2nd and 3rd group start notice time 11:00
First group start notice time 4:11

Sailing instructions

It will be uploaded on this website by September 20th.

If you have any questions about the sailing instructions, please email the competition secretariat by October 1st Sat.
Answers will be posted on this website by October 8th Sat.

賞

Overall champion-3rd place
Champion by group-3rd place
3st to 10rd by class (boat type)

Awards ceremony

Award ceremony party (planned)
Date and time: October 9th Sun.
17:30 Award ceremony party reception
18:00 Award ceremony party start
19:00 Yuzo Kayama Special Live
20:00 Closing schedule

Award ceremony shuttle bus

From Enoshima, Hayama Port and Riviera Seabornia Marina, a round-trip shuttle bus service to Riviera Zushi Marina (free) is scheduled to operate.

Tournament Officer

Tournament president

Noboru Watanabe
(Chairman, Riviera Resort Inc.)

Tournament Vice President

Akira Hirai
(JSAF affiliate group Chairman of the Pacific Ocean Shonan)
Junichi Oyama
(JSAF member organization OSC Miura Chairman)

Special Conference Honorary President

Tournament Honorary President

Yuji Kuroiwa (Governor of Kanagawa Prefecture)
Ryuichi Hirai (Mayor of Zushi)
Hirofumi Kono (President, JSAF)

Tournament Honorary Vice President

Toshio Takahashi
(Chairman of Riviera Zushi Marina Yacht Club)
Yukitaka Hihara
(President of Hayama Yacht Club)
Tomomi Ohno
(Chair of Seabornia Yacht Club)

Executive Committee

Koji Shindori, Executive Committee Chair
(Riviera Resort Inc.)
Race Chair Hideo Ohba
(JSAF member group Taiyo Shonan)
Shuttle bus to Riviera Zushi Marina Awards Ceremony
Riviera Seabornia Marina-Riviera Zushi Marina
16:00
16:30

From Seabornia
Platform /
In front of Seabornian Management Office
20:30

From Riviera Zushi Marina
[Reservation required]
Riviera Seabornia Marina Harbourfront
Phone046-882-1214
Hayama Port-Riviera Zushi Marina
17:00

Depart from Hayama Port
Platform /
Hayama Port Management Office
20:30

From Riviera Zushi Marina
[Reservation required]
Hayama Port Management Office
Phone046-875-1504
Enoshima Shonan Port → Riviera Zushi Marina
(No return flights)
16:30

In front of Enoshima Shonan Port Management Office
[Reservation required]
Riviera Zushi Marina Harbor Front
Phone0467-24-1000
* Only cruisers must submit all boats
Crew registration and boat application
Crew registration and boat application
Participation application status
Riviera Zushi Marina Young General Cup Executive Committee
〒249-0008 5-23-9 Kotsubo, Zushi City
Riviera Zushi Marina Harbor Office
TEL: +0467-24-1000
FAX: +0467-24-8596-XNUMX
E-mail: yachtrace@riviera.co.jp