Kanagawa Prefecture is developing new tourism (marine tourism) that utilizes the scenery that can only be seen from the sea as sightseeing content, while improving the tourability of the Kanagawa sea.
As part of this initiative, we are conducting a demonstration experiment with the aim of realizing a marine taxi that can travel comfortably in a cruise-like manner while experiencing the charm of the sea without worrying about traffic jams.
2019 September 15th Sun.
2019th during 21 December 11st Sat.
○ Everyone can use it, but advance reservation is required.
○ Please apply at least 10 days before the implementation date.
○ In the case of a large number of reservations, a lottery will be drawn, so each business operator will inform you about the success or failure of the reservation at least 7 days before the implementation date.
○ For flights for which no application has been made 10 days before, reservations will be accepted by telephone at each business operator one hour before this sunrise port (first come, first served).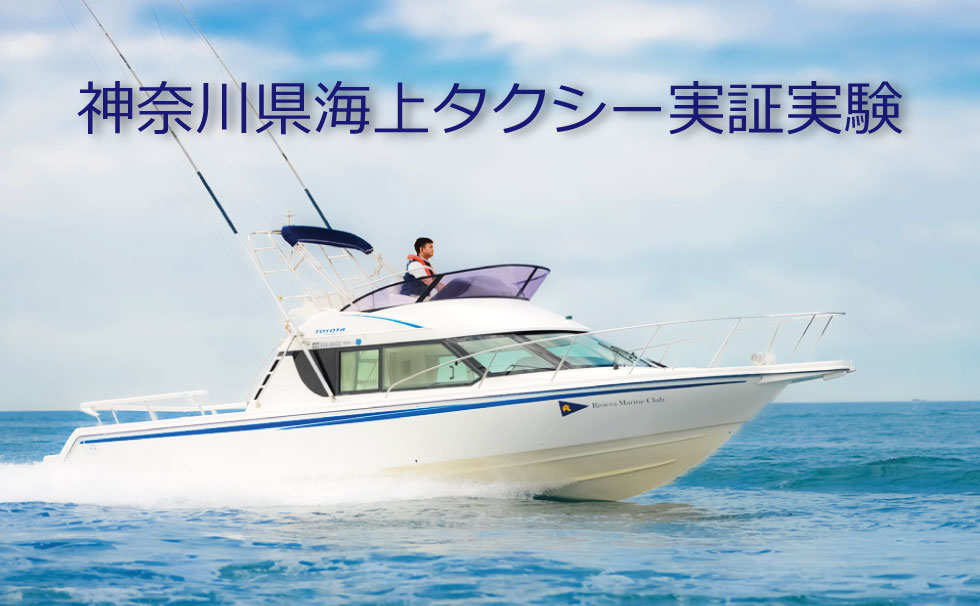 Kanagawa Marine Taxi Demonstration Experiment
Implementation date

Implementing company

Implementation route Departure time

One-way boarding fee
(One boat)

Hayama Marina
Phoneephone 046-875-0002

Hayama Marina-Shonan Port (Enoshima)
①11: 00 Hayama Marina-Shonan Port
②11: 30 Shonan Port-Hayama Marina
③13: 30 Hayama Marina-Shonan Port
④14: 00 Shonan Port-Hayama Marina

One boat 6,000 yen (tax included)

2019 September 21st Sat.
Stormy postponement
2019 November 30th Sat.

Riviera Resort
Riviera Zushi Marina
Phoneephone 0467-24-1000

Riviera Zushi Marina-Shonan Port (Enoshima)
① 10:00 Riviera Zushi Marina-Shonan Port
②11: 00 Shonan Port-Riviera Zushi Marina
③13: 00 Riviera Zushi Marina-Shonan Port
④14: 00 Shonan Port-Riviera Zushi Marina

One boat 5,000 yen (tax included)

Hayama Marina
Phoneephone 046-875-0002

Hayama Marina-Shonan Port (Enoshima)
①11: 00 Hayama Marina-Shonan Port
②11: 30 Shonan Port-Hayama Marina
③13: 30 Hayama Marina-Shonan Port
④14: 00 Shonan Port-Hayama Marina

One boat 6,000 yen (tax included)

Riviera Resort
Riviera Zushi Marina
Phoneephone 0467-24-1000

Riviera Zushi Marina-Shonan Port (Enoshima)
① 10:00 Riviera Zushi Marina-Shonan Port
②11: 00 Shonan Port-Riviera Zushi Marina
③13: 00 Riviera Zushi Marina-Shonan Port
④14: 00 Shonan Port-Riviera Zushi Marina

One boat 5,000 yen (tax included)

2019 October 13th Sun.
Stormy postponement
2019 November 3rd Sun.

Hayama Marina
Phoneephone 046-875-0002

Hayama Marina-Riviera Zushi Marina
①12: 00 Hayama Marina-Riviera Zushi Marina
②12: 30 Riviera Zushi Marina-Hayama Marina
③14: 00 Hayama Marina-Riviera Zushi Marina
④14: 30 Riviera Zushi Marina-Hayama Marina

One boat 3,000 yen (tax included)

2019 October 19th Sat.
Stormy postponement
2019 November 9th Sat.

Sajima Marina
Phoneephone 046-856-0141

Sajima Marina-Miura / Misaki Sea Station
①10: 00 Sajima Marina-Miura / Misaki Sea Station
②11: 00 Miura / Misaki Sea Station-Sajima Marina
③13: 00 Sajima Marina-Miura / Misaki Sea Station
④14: 00 Miura / Misaki Sea Station-Sajima Marina

One boat 5,000 yen (tax included)

Riviera Resort
Riviera Zushi Marina
Phoneephone 0467-24-1000

Riviera Zushi Marina-Hayama Port
①10: 00 Riviera Zushi Marina-Hayama Port
②11: 00 Hayama Port-Riviera Zushi Marina
③13: 00 Riviera Zushi Marina-Hayama Port
④14: 00 Hayama Port-Riviera Zushi Marina

One boat 3,000 yen (tax included)

Riviera Resort
Seabornia Marina
Phoneephone 046-882-1286

Seabornia Marina-Miura / Misaki Sea Station
①10: 00 Seabornia Marina-Miura / Misaki Sea Station
②11: 00 Miura / Misaki Sea Station-Seabornia Marina
③13: 00 Seabornia Marina-Miura / Misaki Sea Station
④14: 00 Miura / Misaki Sea Station-Seabornia Marina

One boat 5,000 yen (tax included)

Hayama Marina
Phoneephone 046-875-0002

Hayama Marina-Shonan Port (Enoshima)
①10: 00 Hayama Marina-Shonan Port
②10: 30 Shonan Port-Hayama Marina
③15: 00 Hayama Marina-Shonan Port
④15: 30 Shonan Port-Hayama Marina

One boat 6,000 yen (tax included)

Hayama Marina
Phoneephone 046-875-0002

Hayama Marina-Shonan Port (Enoshima)
①10: 00 Hayama Marina-Shonan Port
②10: 30 Shonan Port-Hayama Marina
③15: 00 Hayama Marina-Shonan Port
④15: 30 Shonan Port-Hayama Marina

One boat 6,000 yen (tax included)

Riviera Resort
Riviera Zushi Marina
Phoneephone 0467-24-1000

Riviera Zushi Marina-Shonan Port (Enoshima)
① 10:00 Riviera Zushi Marina-Shonan Port
②11: 00 Shonan Port-Riviera Zushi Marina
③13: 00 Riviera Zushi Marina-Shonan Port
④14: 00 Shonan Port-Riviera Zushi Marina

One boat 5,000 yen (tax included)

Sajima Marina
Phoneephone 046-856-0141

Sajima Marina-Miura / Misaki Sea Station
①10: 00 Sajima Marina-Miura / Misaki Sea Station
②11: 00 Miura / Misaki Sea Station-Sajima Marina
③13: 00 Sajima Marina-Miura / Misaki Sea Station
④14: 00 Miura / Misaki Sea Station-Sajima Marina

One boat 5,000 yen (tax included)

Hayama Marina
Phoneephone 046-875-0002

Hayama Marina-Shonan Port (Enoshima)
①11: 00 Hayama Marina-Shonan Port
②11: 30 Shonan Port-Hayama Marina
③13: 30 Hayama Marina-Shonan Port
④14: 00 Shonan Port-Hayama Marina

One boat 6,000 yen (tax included)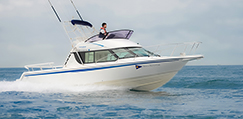 Riviera Resort Boat
Number of passengers 10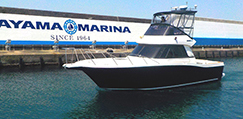 Hayama Marina Boat
Number of passengers 10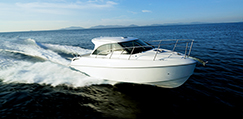 Sajima marina boat
Number of passengers 8
Marine taxi demonstration operation
Kanagawa Prefectural Policy Bureau Self-Government Promotion Department Regional Policy Division
Regional Revitalization Group Phone 045-210-3260