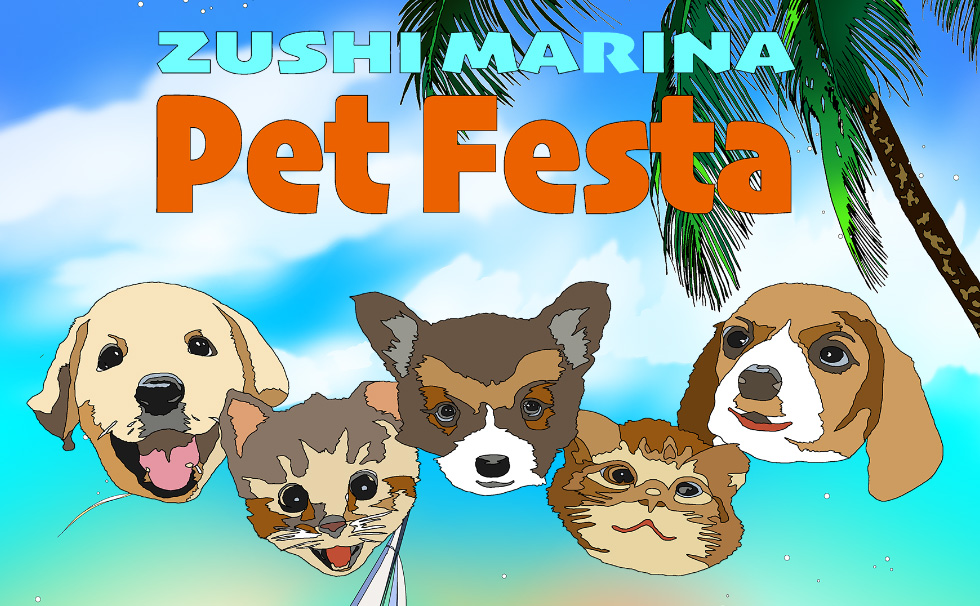 In the modern society where pets are becoming a family, we support Kanagawa Prefecture's efforts to achieve "zero slaughter" for the fifth consecutive year,
Held as part of the "Riviera Future Creation Project", it aims to create "a sustainable and prosperous city where people and pets coexist."
A portion of the proceeds will be donated to Kanagawa Pet Life Fund.
2020 January 19th Sun.
From 10:00 to 15:00 held decision!
Charity participation fee: 1,000 yen per person
Venue: Riviera Zushi Marina [poolside special venue]
※ rain punishment · stopping stormy weather
* There is a limit to the number of parking lots. Please come by public transport when you arrive.
<Organizer> Zushi Marina Pet Festa Executive Committee
<Co-sponsored> Riviera Resort Co., Ltd.
<Support> Kanagawa Prefecture, Zushi City, Kamakura City, Kanagawa Prefecture Veterinary Medical Association, Kanagawa Shimbunsha, tvk (TV Kanagawa), FM Yokohama, J-Com Shonan / Kanagawa, Hawaii.jp, Yokohama Dog Week Executive Committee
<Cooperation> Shonan Beach FM, Leyland Crow Co., Ltd. Plus One Co., Ltd., Dog Run Lab Co., Ltd.
\First come first serve! Walk bag present /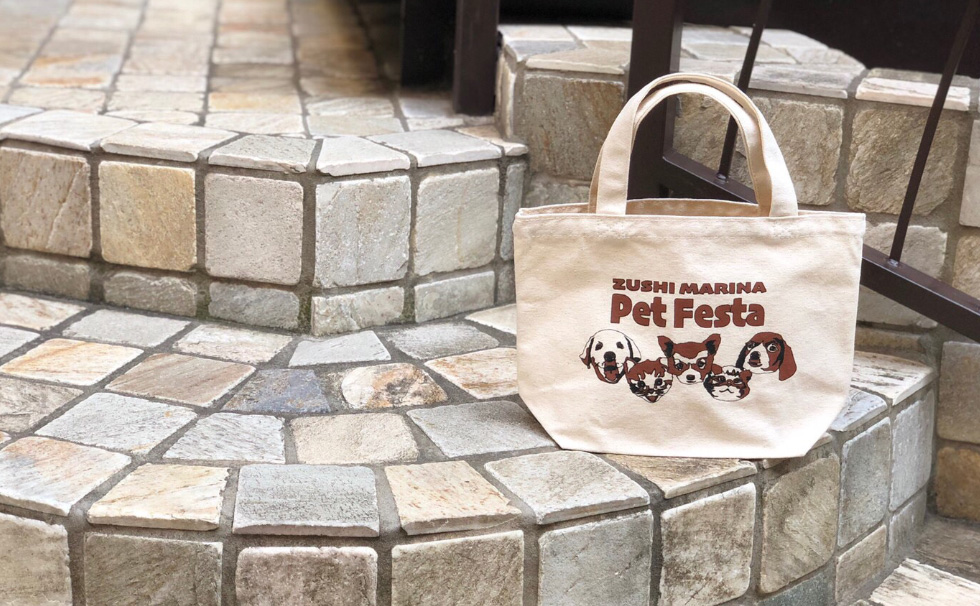 We will present an original walking bag designed by Hideto Suzuki that can be used for walks with pets on a first come, first served basis!
Event sponsored by Riviera Zushi Marina
* The proceeds of the concert will be donated to the Kanagawa Animal Protection Fund, the animal protection facility Anipro and others.
Exhibitors / Sponsors list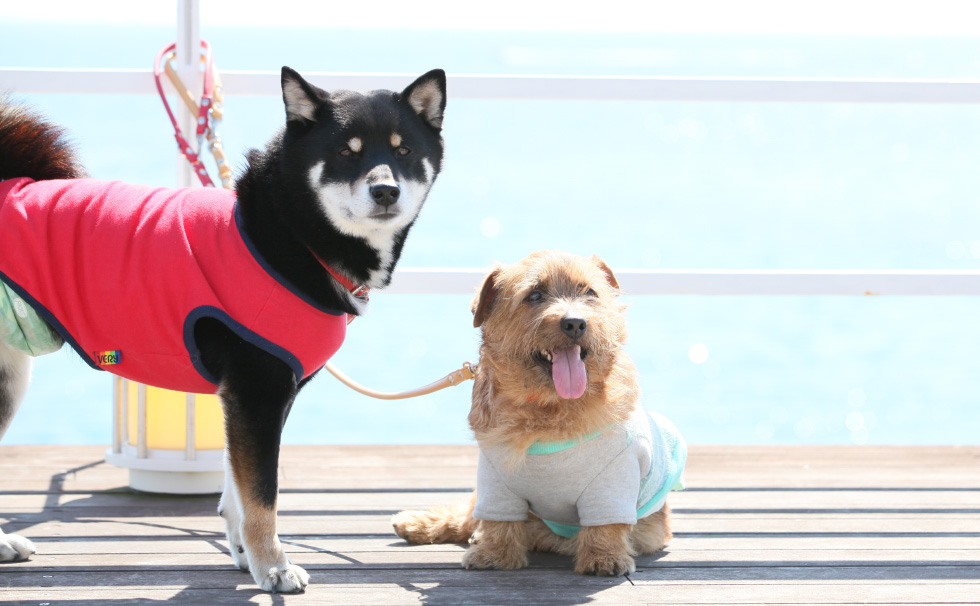 At Zushi Marina Pet Festa
We are looking for exhibitors who can agree.
At the Riviera Zushi Marina, we will hold a participatory charity event where you can relax while feeling the sea breeze with your pet. In support of Kanagawa Prefecture's efforts to achieve zero slaughter (6 consecutive years for dogs, 5 consecutive years for cats), we will promote the SDGs by distributing a sustainable and prosperous society of pets and people through events. This is the third time to be held in October 2017, following March 10, and the recognition and attention have been increasing each time. A portion of the event proceeds will be donated to the Kanagawa Pet Life Fund, which will be used for the treatment and acclimatization of protected animals.
Pet items that are hot topic and pet food that is particular about natural materials!
We will display and sell the latest items. There are plenty of tips to spend your day comfortably with your precious pet! Please drop in ☆
Information on the company that sponsored Zushi Marina Pet Festa! As a prize of the lottery on the day of the event ...! Have fun ★
| Access |
Riviera Zushi Marina
5-23-16 Kotsubo, Zushi, Kanagawa, 249-0008 Japan 23-16
■ 7 minutes by car from JR Kamakura Station, JR Zushi Station, Keikyu Shin-Zushi Station
■ Free shuttle bus runs every 15 minutes from JR Kamakura Station [Parking lot available]
* There is a limit to the number of parking spaces. Please use public transportation when visiting.
| Inquiries |
Zushi Marina Pet Festa Executive Committee Secretariat
TEL: 0467-24-1000
[Exhibition contract, cancellation of exhibition application, cancellation of contract]

■ Exhibitors have all rights to exhibit agreements and prepare for the entire event, including coordination with the exhibitors.
■ Even if there is an application for exhibition, if the organizer judges that it is not appropriate, it may be rejected.
■ The exhibition contract is concluded when the organizer accepts the exhibition application form.
Exhibitor understands and agrees to these Exhibit Rules and submits the Exhibit Application Form.
■ Exhibitors must pay the full booth fee by the date set by the organizer.
  The organizer has the right to cancel the exhibition contract if the applicant's payment cannot be confirmed, and this can be treated as cancellation.
■ Exhibitors have the right to use the booth from the start date of importing to the end date of unloading once the above-mentioned exhibition contract is concluded and the booth fee is fully paid.
■ If you offer to cancel some or all booths after the exhibition application deadline,
  It will be treated as a cancellation by the exhibitor and will be obliged to pay the cancellation fee in accordance with the provisions stipulated in this section.
・ In case of cancellation of 2019 December 16th Mon.-2019 December 31st Tue.: 50% of exhibition fee
・Cancellation after January 2020st Wed. 1: 100% of exhibition fee
* Because there is a possibility that we will not be able to respond by phone due to the New Year holidays,
If you contact us by December 31st 23:59 by email, it will be 50% eligible.

[Management and protection of exhibits]

■ Regarding the preservation of exhibits at the event venue, the organizer will make every effort to protect and manage the exhibits.
  We are not liable for any damages or compensation for any fire, theft, damage or other accidents that may occur.
■ It is advisable to insure your exhibit for insurance in case of an accident.

[Change / Cancellation of the event]

■ The organizer may cancel the event or change the event period due to natural disaster or other force majeure.
■ The organizer does not compensate the exhibitor for any damages caused by this.
  However, if the event is canceled in advance, all or part of the paid booth fee will be refunded.

[Changes to Exhibit Terms]

■ The organizer may change some of these rules in case of unavoidable circumstances.
  In this case, the exhibitor will comply with the new regulations after the change.
---