Phone 0467-23-2211
Reception hours (closed on Tuesdays)
[Weekdays] 11: 00-18: 00 [Saturday, Sunday and public holidays] 9: 00-19: 00
›Because it's an important day, it's more special-Wedding with cruising!
The story of a senior couple
~ Because it's an important day, it's more special ~ Wedding with cruising!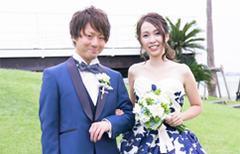 Mr. Shou Takeyama and Mr. Ayaka Sugamura
Ceremony Day / September 2016th 12
Venue / Aqua Garden
A refreshing two-person party with the theme of "loose, bright and fun" will give a generous 3 hour party with short cruising where guests can enjoy the sea.
Introducing the Riviera Original Wedding, a place that continues to the sea.
Venue used
---
Cruising onboard photos

Large set on the deck! A smile spills out in the calm sea.

With the support of the staff, a cute captain will steer ♪

Groom produces hair set for children guests

Group photo in a large garden
Come to the sea!
One hour cruise provided by the Riviera to relax with your good friends before the wedding!
Both the guests and the guests will be cheered at the start of the extraordinary experience when sailing!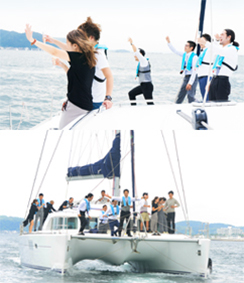 Lively on board party
On board, staff serve colorful meals and drinks. Today's first toast on the sea is a very elegant start! The two, spending the open time wrapped in the sea breeze with the guests, seemed to be very relaxed. * On board the ship,MovieBut you can see it.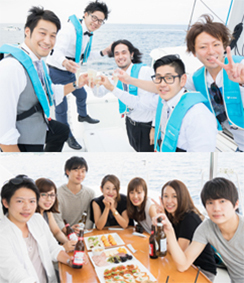 And to the wedding
The ceremony after cruising is exceptional. There were many friends who were moved by tears and were impressed by the appearance of the two people again.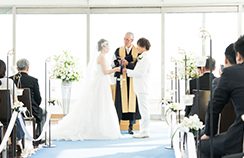 Multifunctional party in a large garden
One of the charms of this banquet is that you can use the garden that continues from the party venue.
Enjoy a dessert buffet or take a commemorative photo in the green garden with the sea in front of you.
We enjoyed many scenes until the evening scenery was beautiful.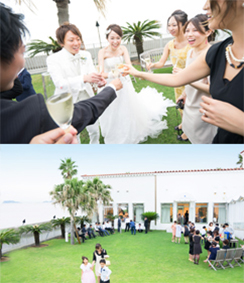 The best couple in the world
Surprise proposal from the movie screening made secretly for the bride!
"Be the world's happiest and create the happiest family in the universe!"
The gentle groom was surrounded by warm air not only for the bride but also for the whole venue.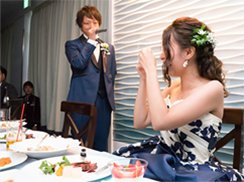 Related information