Phone 0467-23-2211
Reception hours (closed on Tuesdays)
[Weekdays] 11: 00-18: 00 [Saturday, Sunday and public holidays] 9: 00-19: 00
›Wedding that shortens the distance with the fully chartered" Blue Vista Riviera "
The story of a senior couple
A wedding that shortens the distance with the completely reserved "Blue Vista Riviera"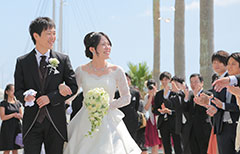 Youhei Ariga, Yuka Tsubuki
Ceremony Day / September 2016th 4
Venue / Blue Vista Riviera
The two guests who value their guests and their families carefully chose the Blue Vista Riviera, a completely private venue. Please enjoy a party filled with the charms of private weddings, such as handmade welcome goods using the large lobby that can be fulfilled because it is reserved, and a ceremony using the ocean view terrace! ︎
Venue used
---
I swear eternal love in a mysterious atmosphere where the sea spreads in front of my eyes.

The bouquet is all together, with both men and women ♪ Everyone enters without hesitation! !

Welcome guests with handmade welcome goods ♪

Color change with purple color dress which is perfect for "Blue Vista Riviera".

Such photos that make the most of the location are also unique to the Seaside Riviera ♪
Toast with flower shower & champagne under the blue sky ♪
The weather was worried and the two happy powers made the blue sky possible. After the ceremony, we moved directly to the adjacent wooden deck, and a blessing flower shower from all the guests. After that, in a refreshing sea breeze, cold champagne is distributed and toast! ! Guests can cheer for the unique performance of the Blue Vista Riviera venue.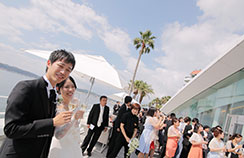 Flower coordination with a favorite sea motif
They often went out to sea and mountains on a date. The total coordination is perfect with a flower with a motif of the sea that is perfect for the atmosphere of the venue. Not only the venue but also the welcome goods that make use of the large lobby are all handmade by both of you. We will welcome guests from the moment you enter the venue.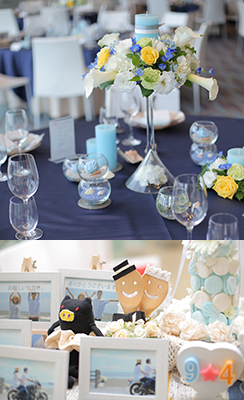 The wedding cake is full of the bride's favorite strawberries ♪
The specialty wedding cake is a "berry basket" that uses strawberries, which the bride loves, in luxury. Guests are surprised by the dream cake! Even at the first byte ceremony, the expressions of the two who struck the cake seemed really delicious were impressive ♪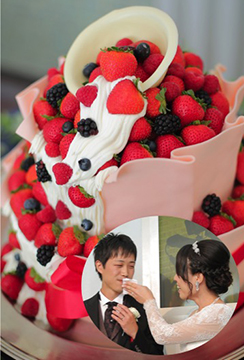 The impressive finale is a ceremony of family bonds
The reception of the two with the feeling of family was filled with gratitude to the family everywhere. In the scene of presenting the bouquet of knots, the most impressive words would have been exchanged between the father and the bride who were impressed. The entire venue was wrapped in warm air, with the hospitality unique to both the guest and the family.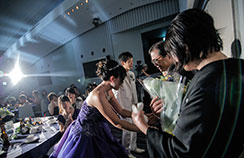 Related information