Phone 0467-23-2211
Reception hours (closed on Tuesdays)
[Weekdays] 11: 00-18: 00 [Saturday, Sunday and public holidays] 9: 00-19: 00
›Take care of your family's smile A natural wedding filled with kindness
The story of a senior couple
Treasure your family's smile Natural wedding filled with tenderness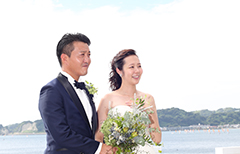 Jun Miyazaki, Mizuki Ninomiya
Ceremony Day / September 2016rd 3
Venue / Bayshore
The bride and groom are particular about flower decoration and are coordinated with a natural and cute impression with pineapple accents.Although it is a small party that invites only relatives, the bride and groom's commitment shines everywhere.We will report on the party where the guests were impressed by how relaxed they were from beginning to end in an unpretentious atmosphere.
Venue used
---
Impressive chapel ceremony

Flower shower like a movie scene

Welcome tree at the entrance of the venue. Comments from colleagues!

Group photo on the terrace

Presenting an impressive bouquet
An adorable, intimate and touching wedding ceremony with a ring boy and flower girl
On a sunny day when the refreshing breeze gently blows, it seems that they are blessing even the glittering water surface seen from the chapel.The groom enters with a slightly nervous ring boy at the head, and then a flower girl dressed in a pretty dress goes on the virgin road while sprinkling white petals.The mother unveiled me, and I can see how the bride was impressed.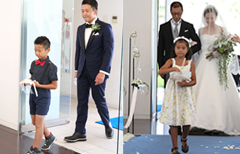 Blessed by guests, release flower shower & balloon
After the wedding, the bride and groom received the blessing of a flower shower from the guests on the stairs outside the chapel.After that, release the balloon toward the clear sky!I blessed their eternal love while staring at the flying balloons.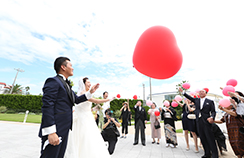 The flower arrangement is a specialty of natural + pineapple!
With the bride's favorite pineapple as an accent, the bouquet and venue flowers are unified with a natural taste centered on green.Instead of a welcome board, a pineapple with the image of two people is displayed, and cute mini pine is studded in the bouquet and the flowers at the venue!Mini pine is also available for boutonniere when presenting a bouquet to parents.It will be a very accent!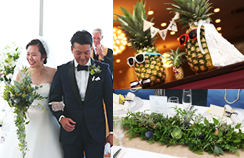 Relax with a water-free atmosphere throughout the party centered on relatives
The bride and groom were set up at the same table as the guests without setting up a main table or making a main table. Smiles and chats echo throughout the venue, creating a very relaxed atmosphere. In the profile DVD, the scenes of exclamation and laughter occur while looking back at the photos of those days, and there is a homely atmosphere unique to a party centered on relatives. It was a peaceful and moving party from beginning to end.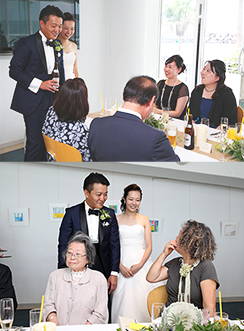 Related information