Phone 0467-23-2211
Reception hours (closed on Tuesdays)
[Weekdays] 11: 00-18: 00 [Saturday, Sunday and public holidays] 9: 00-19: 00
›Enjoy the wedding and early summer garden space surrounded by your favorite sunflowers ☆
The story of a senior couple
Enjoy the wedding and early summer garden space surrounded by your favorite sunflowers ☆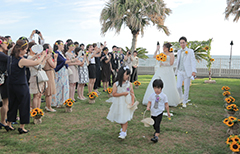 Naoki Arai, Yukei Saito
Ceremony / July 2016nd 2
Venue / Aqua Garden
When he was worried about whether to have a wedding or not, his parents pushed his back asking, "What if I declared an oath in front of everyone?" A natural party with no shoulder elbows, with the wedding ceremony surrounded by your favorite sunflowers and the feeling of gratitude to the guests. When the meeting starts, there are many things you want to do! We will deliver a wedding ceremony in the garden in front of the sea and a party full of ideas and handmade items. ︎
Venue used
---
Escort flower handed at reception. Actually, this escort flower is the same as the flower on each table!

Original signage to the party venue and garden

Looking forward to the bride and groom's entrance with matching sunglasses

Commemorative photo of everyone in a heart shape!

The exclusive seat for the bride and groom is a sofa
Ceremony of 12 sunflowers
In a green garden where the sea breeze is comfortable, the Virgin Road is formed with yellow sunflowers, and the altar is arranged with sunflowers. The ceremony is an original public ceremony using 12 sunflowers. Virgin Road walked with the father and mother, who are important brides. On leaving, led by Flower Boy & Girl, blessed with flower showers and soap bubbles.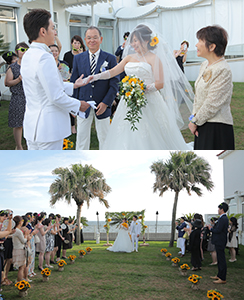 Coordinate by dividing the theme
Coordination of the garden is coordinated with sunflowers that feel early summer. The party venue has a natural taste using colorful florets. Both are perfect for the two!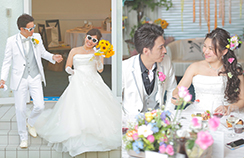 Two people move to each table! ?
They went to each table to value their time with the guests, and spent some time eating and chatting. When the bride and groom sit down, you will receive a blessing message, "Congratulations". I enjoyed an irreplaceable and natural time.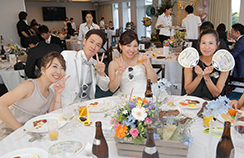 Blessing in real cheer
Amusement is a dance present from a cheerful friend that the bride has been doing for many years. Everyone was hooked on the acrobatic performances of college days and members of the working team. Looking at the complete original dance, the bride was pleased with tears so moved.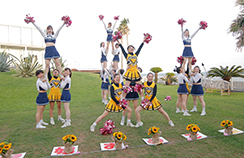 Related information