Phone 0467-23-2211
Reception hours (closed on Tuesdays)
[Weekdays] 11: 00-18: 00 [Saturday, Sunday and public holidays] 9: 00-19: 00
›Himawari WEDDING-Expressing two bright and energetic characters-
The story of a senior couple
Sunflower WEDDING
-Expressing two bright and cheerful characters-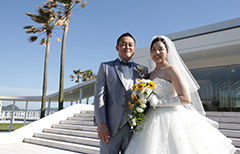 Manabu Takenouchi, Momoko Ogata
Ceremony / 2016 May 4th
Venue / Bayshore
At first, they were thinking about weddings with their family members or limited friends, but if you look back on the memories of everyone who has taken care of you, you will have more than the initial number! I had a good time with my friends at home. This is an ideal venue with a view of the sea. ︎
Venue used
---
Release colorful balloons in the blue sky

Surprise until the day! What spoon is the first bite?

Sunflower and original goods welcome

Feel the sea breeze and have a good time

A romantic sunset with Enoshima as a backdrop is perfect for photography!
Original public ceremony that feels connected with guests
The ceremony they chose is an original public ceremony. In advance, guests will have their thumbprints printed with colorful ink, and the two will sign at the end. It is an original marriage certificate created by family and relatives, guests, and two who gathered on this irreplaceable day.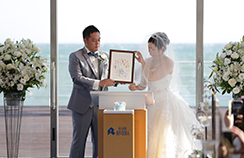 Mainly coordinated with sunflowers and natural green
Sunflowers and greens are incorporated into the decoration of the party venue, bouquets for the wedding dress, and welcome flowers, and the whole is coordinated. If you imagine the bride's character, this color was just right. It was released with an orange, yellow, mint green balloon. The color change of green color is also suitable for the bride, and it is perfect for coordinating the party venue.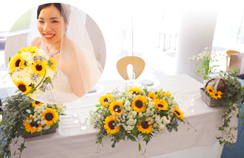 Reflect on memories with original movies and express thanks
The present movie was shown to the guest. The two will share their appreciation by talking about the stories and episodes with the guests while looking at the photos and images they remember. Guests, nailed to the monitor! You probably remembered the time you spent with them.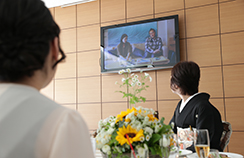 A dessert buffet on the wooden deck where the sea spreads in front of you
A bright space where one side of the party venue is entirely covered with glass and full of sunlight. Beyond that, there is an open wood deck where the sea spreads out. Many desserts such as tarts, cakes, macaroons, fruits, and chop ice are lined up, fascinating guests. Everyone was enjoying the dessert time in the outside space.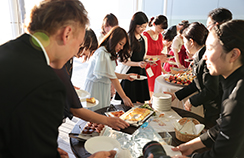 Message from Riviera staff
Gaku-san, Momoko-san Congratulations on this occasion!Every time I met two people who were naturally smiling, I was energized.I remember the excitement of talking about sports like yesterday.Watching the two shining smiles on the day, tears came out naturally.It was a really nice warm wedding that seems to be two people!Please continue to build the most wonderful family with a shining smile!Be happy! (Planner Okamoto)

Gaku-san, Momoko-san Congratulations on this occasion.I wonder if we really have a wedding!The two of them said that they wanted to express their gratitude to their parents and their guests.It was a wonderful day to convey the feelings of these two people.Please continue to be bright and lovely smiles like sunflowers.Be happy! !! (Producer Umehara)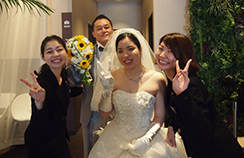 Related information