Phone 0467-23-2211
Reception hours (closed on Tuesdays)
[Weekdays] 11: 00-18: 00 [Saturday, Sunday and public holidays] 9: 00-19: 00
›" I want to show this scenery to everyone! "A bright and lively party that seems to be two people who love the sea
The story of a senior couple
"I want to show everyone this scenery!" Bright and lively party like two people who love the sea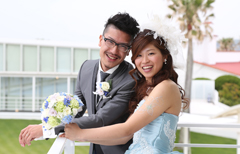 Tatsuya Kaida, Asuka Sekine
Ceremony / 2016 April 24th
Venue / Terrace Horizon
A groom who works as a mechanic and a bride who was a teacher in a kindergarten where she graduated. This is a lively party where many friends and relatives who loved the locals they were born and raised were having a good time, and they were always smiling.
Venue used
---
Welcome guests with a welcome board handmade by the bride. As expected, a kindergarten teacher!

The rain that the groom named Ameo was worried about, and the blessing at the flower shower is perfect!

Blue cake with the image of the deep sea! Despite being shy, it is a big mouth ♪

Inside the venue where the lights are off and expectations are high. Cheers will be heard on re-entry from the terrace ♪

A bouquet of thanks is presented to the bride's grandparents who took care of their busy parents on their behalf.
Handmade ring pillow decorated with plumeria
A seaside chapel chosen by the two people with the theme of their favorite sea. A vow ceremony that takes place on the Virgin Road, which is filled with seashells, toward the sea. In Hawaii, the ring pillow featuring the plumeria flower, which is also used for lei, is handmade by the bride's mother.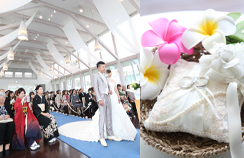 Two people finally entered in the fantastic light production
Two people finally enter the reception hall where many guests await. The bride's attention is given to the light produced on each table that lights up according to the two people who slowly proceed to the main table. The original venue decorations that image the deep sea, featuring the popular movies that grooms love, feature shells, starfish, pearls, and other small items.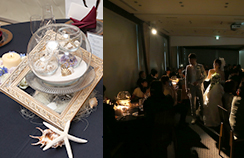 A commemorative photo with lively conversation at each table
A bride in a pale blue dress selected by the groom. Then, at each table, a commemorative photo was taken, and at every table there was a lot of talk, laughing and hugging. Blessed by many friends and relatives, the groom, who hates photography, was full of happy smiles.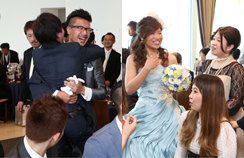 Presenting flowers with a letter of thanks and a photo
At the bright and lively party, many of the relatives and friends cried for the bride's letter and greetings of the bride's father and groom's mother. It is very warm to feel that you are loved not only by your parents but also by your relatives and colleagues and many other people, and that you both care very much about them. It was a party.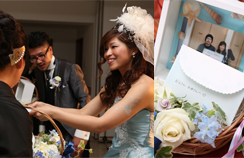 Related information