Phone 0467-23-2211
Reception hours (closed on Tuesdays)
[Weekdays] 11: 00-18: 00 [Saturday, Sunday and public holidays] 9: 00-19: 00
›Wedding with XNUMX people ♪ Family Wedding made by family !!
The story of a senior couple
Family wedding with three people ♪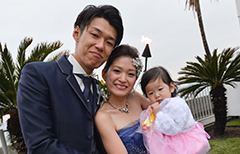 Tatsuya Matsushita, Maiko Ikeda
Ceremony / 2016 January 30th
Venue / Aqua Garden
"Wedding together with my daughter Aoba-chan for a family of three" The theme of the party was to select a venue and enjoy a cozy home like a guest invited to their home. Please enjoy Family Warming, a heartwarming Family Wedding that starts with the desire of all guests to enjoy and relax. ︎
Venue used
---
Meet at the Bride's Room ♪ Start a fun wedding party!

The groom picks up the microphone himself and counts down the bouquet!

Of course, the cutting of the cake is also the same for the three people ♪

The open garden reduces the distance between guests.

Surprise letter from twin sisters. Tears involuntarily in their eyes ...
Enter with a cute veil boy ♪
The ceremony is a seaside chapel where you can overlook the sea. When the bride enters, nephews help get along. With the appearance of the cute veil boy, the guests smile involuntarily.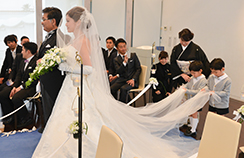 Original cake with a favorite sea motif
The cake that was brought to the venue is an original wedding cake with the motif of the sea that they both love. After the first byte ceremony, the nephew who helped with the wedding ceremony "Thanks byte" ceremony ♪ The guests who set up the camera together "Ah!" !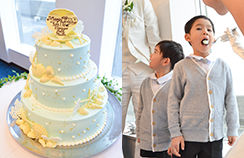 A family photo together with three family members, taking a commemorative photo ♪
Of course, the color change is also for the three family members. The groom advises on the bride's dress. The total coordination is perfect with a bouquet that matches the color of the flowers at the venue. ︎Your daughter, Aoba-chan, has also been transformed into a pink dress together ♪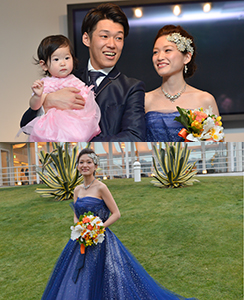 Enjoy the dessert with a garden buffet for all guests!
Distribute the chop ice made by both of them to the guests ♪ The guests' tension, such as hot chocolate unique to winter, the splitting of the wedding cake, the colorful fruits, etc. will also rise! ! The body and mind are open in a garden surrounded by the sky and the sea.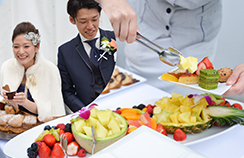 Related information