Phone 0467-23-2211
Reception hours (closed on Tuesdays)
[Weekdays] 11: 00-18: 00 [Saturday, Sunday and public holidays] 9: 00-19: 00
›Coordinated with" baseball "that connects the two.A smiley wedding to send to your dear friends and family ♪
The story of a senior couple
Coordinated with "baseball" that connects the two. A wedding with a smile that will be sent to your important friends and family ♪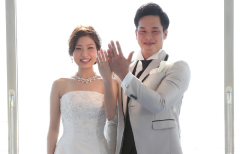 Mr. Shohei Kato and Mr. Kanami Sawano
Ceremony / 2015 December 12th
Venue / Ocean Suite
The two met when the bride joined the groom's baseball team, who played baseball in professional life. There are lots of baseball-themed items, such as welcome goods handmade by the bride and original wedding cakes ♪ "The wedding theme is a smile! ], A groom-like welcome speech from the groom welcomes the party with a smile.
Venue used
---
The two people are handmade, and the weather that they were worried about has become a pleasant blue sky.

Welcome goods are decorated with the theme of "baseball". The smile before the ceremony is also unbearable.

The bouquet of bouquets has a surprise that separates into three!

A surprising surprise from the groom's friend. The groom jumps in from the middle ♪

We send off guests with a smile to the end *
Discerning Bouquet and Boutonniere
The groom collects the flowers selected by the bride from each guest, creates a bouquet and presents them to the bride. I chose a public ceremony where all the guests can participate because they are two people who value their friends very much. We received words from a friend of the representative, and sworn eternal love while being watched by our precious family and friends.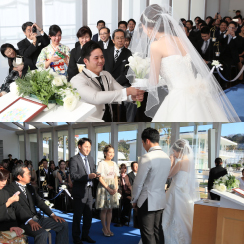 Baseball stadium cake designed by two people!
A wedding party coordinated on the theme of "baseball" where two people are brought together. Among them, the most particular is the wedding cake of the baseball stadium, which was designed by two people by sticking to the fine details. On the scoring board, the name of the two and the date of the wedding day are ... ♪ Both of them are surprised at the image quality! !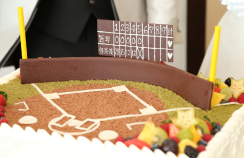 Re-entry while dancing with the guest ♪
Re-entry of the color change is still with friends! Surprise entry from the ocean-view terrace to the tunes of the guests who were successfully caught during the Bouquet's Vaults! The guests at the venue joined the dance dance with the music of NoriNori ♪ It was a wonderful re-entry ceremony for two people with a lovely smile.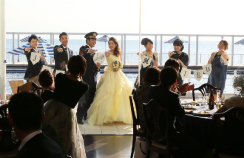 At the end, I expressed my gratitude to my parents.
It was a party where I couldn't smile all the time, but when my last greeting came out, there was something shining from the eyes of both parents. The two were presented with a "weight rice" of the same weight as when they were born, as a souvenir, and the mothers of both families took care of it forever. It was a wedding party with a smile that both guests and family value.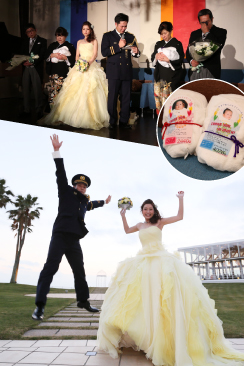 Related information