Phone 0467-23-2211
Reception hours (closed on Tuesdays)
[Weekdays] 11: 00-18: 00 [Saturday, Sunday and public holidays] 9: 00-19: 00
›The theme is" Thank you for the sea! "This is a big Thanksgiving that the two Miura children give to 160 guests!
The story of a senior couple
The theme is "Thank you for the sea!" This is a great Thanksgiving Day given to 160 guests by two Miurakko!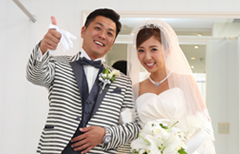 Kenta Ishibashi and Chiharu Kiyohara
Ceremony Day / October 2015th, 30
Venue / Ocean Suite
The two who grew up in Miura love the sea.We have prepared countless productions and surprises so that the guests who have taken care of us can enjoy the ocean view banquet anyway.There are tears, there is laughter, there is a big laugh!It's the beginning of a hearty two miracle party!
Venue used
---
Help your relatives' children be cute and happy

Chapel overlooking the sea. A blessed guest from the sea!

According to the bride's name! As expected, it is clear and high cheese ♪

Discerning marine items color the venue.

Guests are delighted to dazzle the production! Some videos are also introduced.
Demolition show with wedding cake! ?
They prepared two wedding cakes for all 160 guests to enjoy! The first is a marine taste in which the two are on a boat. The other is a marlin-shaped cake named after the work of the groom! A cheer went up from the venue to cut the sweet marlin.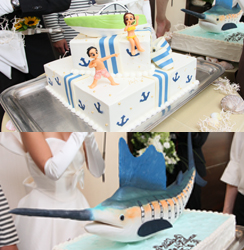 With those who took care of me
The surprise appointment of Nakaza Escort is that the groom is a maternal aunt and a mother's friend. The bride is a couple who took care of them as a teenager. It was very impressive that those who were nominated for their personal choice were happy with a smile while their families were often nominated.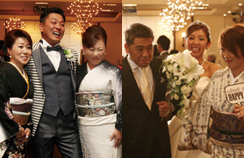 Everything is out of specification! Three surprised balloons lined up
Three large smile balloons line the poolside upon re-entry! While the guest's attention is gathering, the bride and groom appear in the center and the families of both families appear from the inside right and left! The appearance of the three balloons opening at once is just the highlight! Dad / mother / brothers pose happily!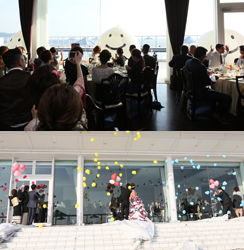 Until the end
At last, a special reception will be a pleasure. The groom's heartwarming speech and a surprise proposal to the bride were wrapped in excitement. After the end roll, greetings with fireworks outside the venue! The guests and staff applauded for a gorgeous and fun party until the finale!




"Message from Riviera staff"
I want to have a party that conveys "thank you ♡" to the people who always support me!Kenta-san and Chiharu-san's personalities appeared, with laughter, tears, and a heap of surprises!It was a very fun and heartwarming wedding party!
All of our staff were attracted to their charm!
It's an honor to be able to work together to create a large-scale wedding, packed with the first ever Seaside Riviera!
Please build a happy home full of many smiles and HAPPY!

Wedding producer Mariko Nakamura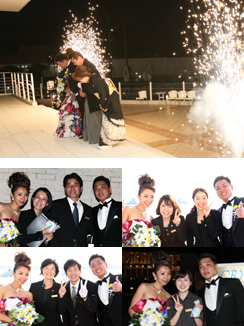 Related information