Phone 0467-23-2211
Reception hours (closed on Tuesdays)
[Weekdays] 11: 00-18: 00 [Saturday, Sunday and public holidays] 9: 00-19: 00
›Play Ball!An original wedding with the theme of your favorite baseball
The story of a senior couple
Play ball! Original wedding with the theme of your favorite baseball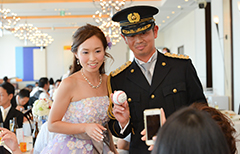 Mr. Masayuki Takahashi, Mr. Marina Nakamura
Ceremony / July 2015th, 25
Venue / Ocean Suite
Bride and groom who love baseball. The welcome space to welcome guests is full of baseball goods! At the start of the party, announcements such as Uguisu Miss flow from the presenter, like the entry of baseball players. "Play ball!" And a fun party start!
Venue used
---
Group photo with all guests in front of the chapel

Baseball ball shaped with baseball support goods and flowers for table decoration

Re-entry ... from the terrace! You're both excited

Open your big mouth and get your first byte

Handmade lei of bride to father
Fully open with original baseball goods!
The two people's commitment, the photo taken before at Yokohama Stadium is on the welcome board.Looking at the pictures taken in a wedding dress and a black tie, there was a surprising comment from the guest saying "I took it here!" Because it is a rare place.The sleeves of the uniform, which is the image of a favorite team, are the whole body with the place names "Yokohama" and "Sado" of each of them!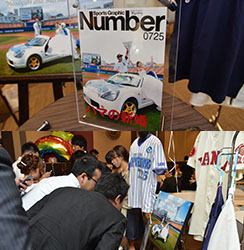 Blessed flower shower led by a flower boy
After the ceremony, there is a flower shower on the stairs in front of the chapel. The cute nephews with bow ties walked in front of them as a flower boy and fluttered their petals under the blue sky.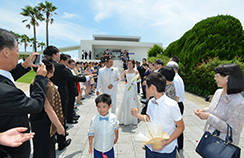 Wedding hula from the bride
A bride learning hula. The wedding hula, where only the bride can dance, "I want to dance!" Was shown to the groom in Hawaii, with the glow that is said to be the lei worn by the bride, lowered from his neck. It's wonderful to express the love and feelings for the groom with your hands and your whole body with gentle music.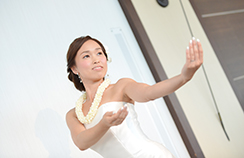 Write a message on the baseball ball
At each table, guests wrote a message on the baseball ball. After recoloring, they go around each table and pick up the baseball! The collected baseball balls were decorated around the wedding cake.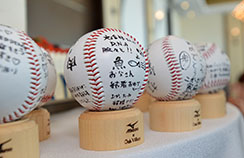 Poolside dessert time
After the meal, it's time for the long-awaited cake.At the poolside adjacent to the party venue, we enjoyed dessert time surrounded by the vast sky and sea.You can take pictures with your friends with a natural look under the blue sky.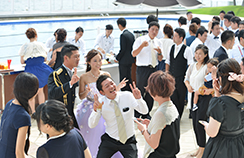 Related information