Phone 0467-23-2211
Reception hours (closed on Tuesdays)
[Weekdays] 11: 00-18: 00 [Saturday, Sunday and public holidays] 9: 00-19: 00
›I want to attend such a wedding!A memorable hospitality wedding
The story of a senior couple
I want to attend such a wedding!
An unforgettable hospitality wedding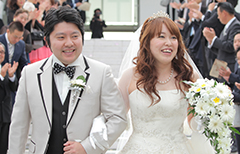 Takuma Suzuki, Miho Iio
Wedding Day / 2014 November 12th
Venue / Terrace Horizon
"I want you to eat your stomach and laugh as much as you can." The wedding party of Takuma and Miho started with such a welcome speech. A party full of laughter that will not get tired of the invited guests, such as when they both participate in entertainment. Here are a variety of "hospitality" that the two have considered.
Venue used
---
Cake's first byte is a surprise to a friend

Great photo opportunity. Roast beef sword

The appearance of the recoloring also nails guests! Surprise with a surprise balloon

Cute welcome goods made by friends. They are exactly the same

Create beautiful items using photos taken before the wedding
Hospitality from two people-Eat a lot-
They love meat. Next to the wedding cake was roast beef. After the first byte ceremony, a roast beef buffet on the terrace overlooking the sea. Guests are excited about roast beef served separately from course meal meat!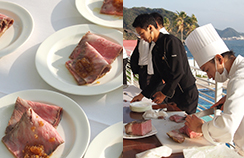 Hospitality from two people② -Drink a lot-
If you're two, it's not just drinking! The two of them put themselves on a half coat and served beer at each guest table. While enjoying the conversation with the guests, a very peaceful time flowed.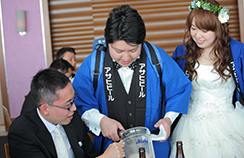 Hospitality from two people ③ -laugh a lot-
From the frog costume that was thought to be Mr. Takuma at the color change entrance, Mr. Takuma's colleagues! Takuma who appeared while singing dashingly with a umbrella in one hand while the whole venue was laughing. Miho joined and the duet time began gorgeously with two duets.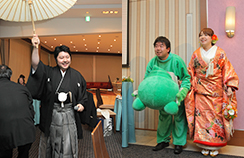 Hospitality from two people-and superb view for hospitality-
It's sunset time when the party becomes happy. We moved the venue to Aqua Garden and enjoyed the second party from dusk. Aqua Garden where torches are lit when the sun goes down. It was perfect for two people dressed in aloha shirts and mu-mu.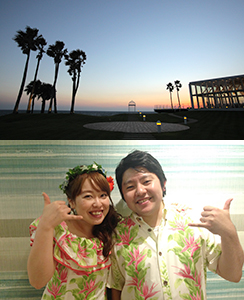 Related information