Phone 0467-23-2211
Reception hours (closed on Tuesdays)
[Weekdays] 11: 00-18: 00 [Saturday, Sunday and public holidays] 9: 00-19: 00
›Resort wedding with ocean view and live jazz music
The story of a senior couple
Resort wedding, entertaining with ocean views and live jazz performances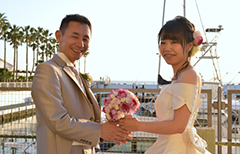 Naoki Sekiguchi, Tomoka
Ceremony Day / October 2014th, 18
Venue / Marina Terrace
For two people who like the sea, Kamakura and Enoshima are places of memories that they often dated and proposed.We will have a party at the venue "Marina Terrace" overlooking the location.Also pay attention to the fantastic "Sachi Akari" Shinto ceremony held at the sunset time at Tsurugaoka Hachimangu!
Venue used
---
Welcome board with memories of Kamakura and Shonan

Toast with champagne at the gate of the two

Sunset over the Marina Terrace

Former Akari Shinzen ceremony at Tsuruoka Hachibangu
Live heartwarming JAZZ
The live music during the reception was live jazz with piano and saxophone. The dining was very graceful while listening to jazz, and the venue was wrapped in a moving atmosphere when the bouquet was presented.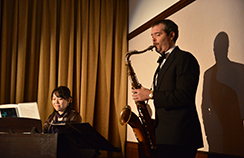 Featured cake cutting scene
The wedding cake has a cute design with a staff member who has a meeting with the dedicated staff and is full of strawberries. At the wedding cake sword, the applause of the guests and the flash were wrapped in the flash, and they both seemed very happy.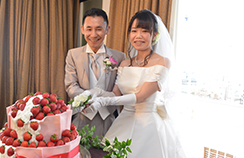 Buffet in a great location
The buffet was served on the open wood deck next door. While watching the cruiser floating on the yacht harbor in front of you and the sea of ​​Shonan as far as you can see, the buffet time according to the sunset time is a time to enjoy not only desserts but also photos.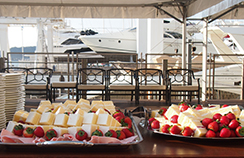 A fantastic and special lucky light Shinzen ceremony
"Sachi Akari" is a special ceremonial wedding held at sunset time, limited to one set per day. At sunset time, the ceremony began with the investigation of Gagaku. The approach to the lanterns and the bonfire surrounding the Maiden and the two were held in a very fantastic atmosphere. It was a time to feel a special day at Tsuruoka Hachimangu.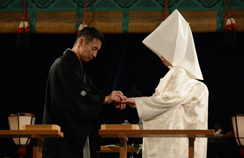 Related information