Phone 0467-23-2211
Reception hours (closed on Tuesdays)
[Weekdays] 11: 00-18: 00 [Saturday, Sunday and public holidays] 9: 00-19: 00
›Natural Coordination & Garden Enjoyment Wedding
The story of a senior couple
Natural Coordination & Garden Enjoy Wedding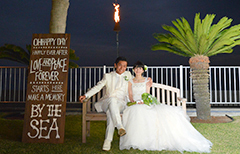 Takuya Nakajima and Risa Yokoyama
Ceremony Day / September 2014th 20
Venue / Aqua Garden
Active grooms whose hobbies are surfing, camping and voltaling, and brides who are apparel designers. The ceremony was held strictly at Tsuruoka Hachimangu, a place where the groom had longed while attending. The party turned around and said, "I want to do a relaxing wedding without straining my shoulders!"
Venue used
---
The groom's longing crest clothing

I pledge with a pure heart

The welcome space is packed with brides' handmade items! With the photos I took before

The dessert time is the time you want. Hospitality of guests with chop ice by bride

Commemorative photo with all guests in the garden! Fuji and Enoshima can be seen behind
Garden admission ☆
The two enter the garden and the party starts. The bride is guided by children with handmade flags and appears in the green garden! You will be wrapped in the warm applause of guests.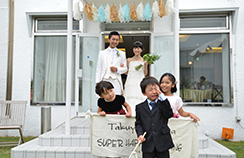 Excellent cuteness! Original wedding cake
The cutting of the wedding cake is also done in the garden. The area around the cake is still baked and very unique! Decorated with greens and fruits, perfect for coordinating natural taste!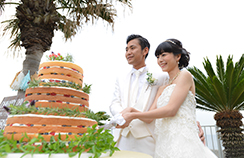 Natural coordination based on green & yellow
The venue coordinated with yellow flowers as the point color is a masterpiece of the bride and florist! The design of the fringe garland and bottle label on the main table was handmade by the bride. It was so popular that the guests took photos before they entered.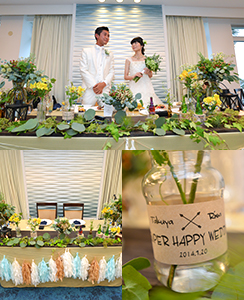 Nakaza time with family
Nakaza's opponent nominates their parents. Parents are pickled by surprise nomination! If you look at your facial expressions, you can see that they are a wonderful family with a constant smile.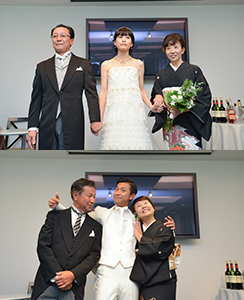 A commemorative photo of a new family in the changing landscape
One of the charms of the party in the garden is that it shows a different look over time. During the fantastic time of the twilight, light the torchlight and flash a piece of irreplaceable memories with your family!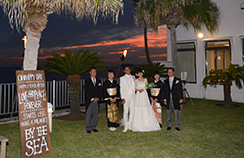 Related information