Phone 0467-23-2211
Reception hours (closed on Tuesdays)
[Weekdays] 11: 00-18: 00 [Saturday, Sunday and public holidays] 9: 00-19: 00
›The theme is summer festival.Summer-like hospitality for guests
The story of a senior couple
The theme is a summer festival. Summer hospitality for guests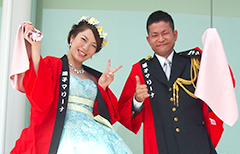 宏 Mr. Hirokazu and Mr. Yuka Ishii
Ceremony / July 2014st, 21
Venue / Ocean Suite
Since July, they have been thinking about various kinds of hospitality under the theme of summer festival. On the day, enjoy a summer party, such as a dessert buffet on the terrace that appeared on the terrace. In addition, we incorporated the famous scenes of a movie that both of us liked into the video, and a peaceful wedding that invited guests to smile.
Venue used
---
Welcome goods are full of items related to the two

Exit scene filled with happiness after receiving a flower shower

First byte of affection size. It is Hirokazu with a surprised face on a large serving spoon

Fun dessert time with sweets and popular chop ice that looks like a fair

Color change is ceremonial clothes and surprise entrance from the terrace
The cake is also original!
A wedding cake exclusive to the Riviera patissier, who Yuka insists on saying "I can't cut it!" The fire truck is an original cake full of cuteness, named after the firefighter groom, who also features movie characters that both of them like.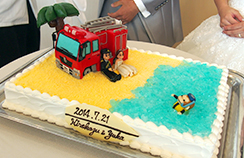 A fantastic entrance scene that colors the summer festival wedding
Fireworks all over the party venue with the lights turned off. The fireworks drawn on the fans that were handed to the guests in advance bloom large flowers, and the fantastic recolored entrance. Everyone's favorite summer traditions graced the wedding scene.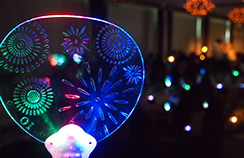 The dessert buffet also incorporates a summer festival in a fair style
Both of them invite their guests to the terrace in a half-covered state, and a relaxing dessert time starts. Under the theme of the summer festival, shaved ice and apricot candy unique to fairs, chocolate bananas and takoyaki-style petit cream puffs, and children from adults to adults! The staff helped while having fun together.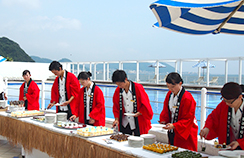 "One scene of a certain movie" that they were particular about
Mr. Hirokazu of "Riku Monkey" who recognizes himself and others. Based on the ideas of the two, the guests were excited about the video production that was completed with a powerful tag with the Riviera cinema team. The video ending the party was beautifully finished in the ending style of the movie. The video isthis.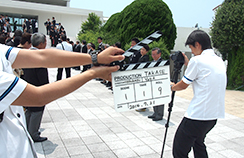 Related information