Phone 0467-23-2211
Reception hours (closed on Tuesdays)
[Weekdays] 11: 00-18: 00 [Saturday, Sunday and public holidays] 9: 00-19: 00
›Hospitality cruising from two to guests!
The story of a senior couple
Hospitality cruising from two to guests!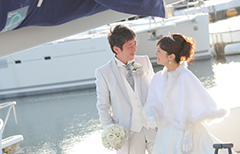 Tatsuya Shibata, Miki Ito
Ceremony / 2014 May 18th
Venue / Marina Terrace
A surprise cruising party realized by two sea lovers who are particular about it! During the romantic time at sunset, the two sailed in a wonderful way.
Venue used
---
Blessed with weather, the best cruising weather

Both bride and groom and guests are full of smiles!

Return from short cruise with sunset back

After the toast, everyone dances to the song!

A surprise part-time job for dad and mom is urgently participating in his brother!
The cruising of the bride who wanted to grant by all means
After the wedding at the chapel with a view of the sea, a cruising party for the bride and groom to give them a try. I have had many meetings with the producer, and finally realized it! It was a wonderful day to remember.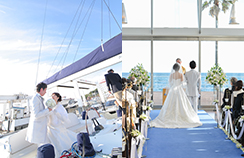 While waiting for a cruise, the venue will be excited by a golf tournament!
Cruising sailed in two groups. Meanwhile, the party venue is transformed into a golf putting tournament! Aiming for prizes, golfers with amazing skills (?) Fought a hot battle! I also enjoyed the appetizer and signed the comment board for them.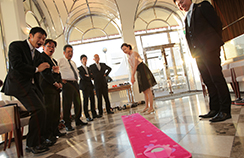 A cute cake with a cute decoration on the golf course, the first byte
Next to the cruising is a wedding cake decorated with a golf course. Lots of tricks full of resort feeling! Marzipan decorations that look exactly like the two are also enjoying golf happily!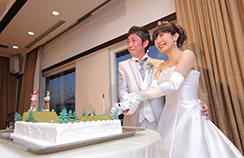 A grateful speech from the groom
Finally, a grateful speech from the groom to the bride and parents, guests at the ladies and guests, and the Riviera staff, filled the venue with excitement. Make friends and happy forever!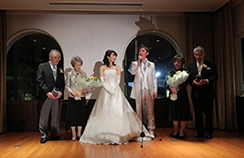 Message from the staff in charge
Tatsuya Miki
Congratulations on this time.
We are very pleased to be able to help you with your first cruising wedding on the Seaside Riviera.It was really quick for about 3 months from the start of the meeting.The two of us always cherished our guests, and also cherished our uniqueness when thinking about weddings.
Cruising and golf putting competitions, self-photographs, dance with a sense of unity with guest participation and sword cutting of original cakes, it was a really wonderful time.
As a place of memories for both of you, please come visit us anytime for cruising, fishing, dinner after golf, etc.We look forward to seeing you again.

Wedding Producer Tomonori Tsuda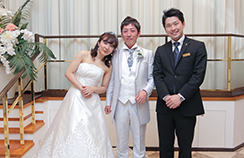 Related information