Phone 0467-23-2211
Reception hours (closed on Tuesdays)
[Weekdays] 11: 00-18: 00 [Saturday, Sunday and public holidays] 9: 00-19: 00
›Deliver delicious food and gratitude to guests.Hospitality wedding
The story of a senior couple
Deliver delicious food and appreciation to guests. Hospitality wedding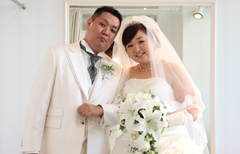 Tomoaki Ueno, Asami Hosoda
Ceremony / 2014 January 19th
Venue / Terrace Horizon
Tomo Satoshi and Asami who are very nice and friendly. The theme of these two parties is "Thanks and hospitality to important people." As expected, on the day we welcomed our guests at the location of the shining sea, which was blessed with the deliciousness of the seafood of Zushi and the fine weather. It is also a must-see for a production that spills a smile that focuses on the uniqueness of two people!
Venue used
---
A wedding celebrated by the blue sky and blessings.

At the entrance of the venue, an original welcome board and hobby figures are welcomed

Blessed with fine weather, you can clearly see Mt. Fuji from the terrace.

Stunning meat with roast beef swords! We are proud of the Riviera.

Commemorative photo in front of the venue.
I love meat! Roast beef sword!
My first date is yakiniku! And two meat lovers cut into "roast beef" instead of "cake". Surprise, the father and mother of both families are all entering the sword together. Cheers are excited by the delicious production that seems to be like TomoSatoshi and Asami. After this, a wedding cake also appeared gorgeously.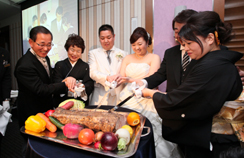 Color change from the terrace. All salute!
With curtains open, the entrance is recolored from the terrace where the shining sea is dazzling. The groom who works for the Kanagawa Prefectural Police is dressed as a police officer! The bride changes to a suitable pink dress. Stand on the horizon and salute! It is a production that seems to be two people.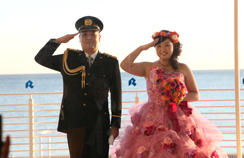 Toast with beer tonight with guests
This time, the groom wearing a happi coat carries a beer tank, serves his favorite draft beer, and goes around each table. The groom and the guests, who have a good blue happiness, are playing with a mug.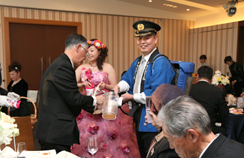 Wedding cake buffet with stunning sunset background
The sunset has begun, and the sunset time is proud of Zushi Marina. Mt. Fuji is also clearly dyed red, and it seems very enjoyable to take a commemorative photo on the terrace with the guests. Next to it is a wedding cake served in buffet style. It was a very nice present with thanks to everyone.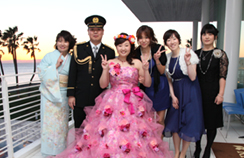 Related information